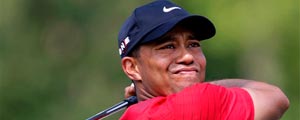 NEW YORK — World Number One Tiger Woods and new British Open champion Phil Mickelson are on a collision course, fighting for the year's last major golf crown at the 95th PGA Championship.
Sapa
Practice began Monday at Oak Hill Country Club in Rochester, New York, with Woods coming off a seven-stroke triumph at the World Golf Championships Bridgestone Invitational, his eighth triumph at Firestone Country Club, and Mickelson still enjoying last month's British Open win at Muirfield.
"When Phil and I have battled, it has been in big events and we've shot some pretty good rounds together and against each other," Woods said.
Woods, a 14-time major winner chasing the all-time record of 18 majors won by Jack Nicklaus, has not won a major title since the 2008 US Open but says he feels no extra urgency to win the last major before his 38th birthday.
"As far as wanting it more than any other, no. It's the same," Woods said.
"Those are the events that we try and peak for and win. Each and every major, I always want them. I've been successful 14 times and hopefully (this) will be 15."
Mickelson, a US Open runner-up for the sixth time in June, captured his fifth major crown and second victory of the year in July and is confident his game is near its peak at Oak Hill.
"I've studied the golf course," Mickelson said. "I know exactly how I'm going to play it. I just need to get my game sharp now." Nicklaus, who set the Oak Hill course record of six-under par 174 in winning the 1980 PGA, expects that mark to fall this week despite dense rough and tough greens.
"The player has got to suit his game to the golf course," Nicklaus said. "Mickelson will adapt well to it. Tiger will adapt well to it."