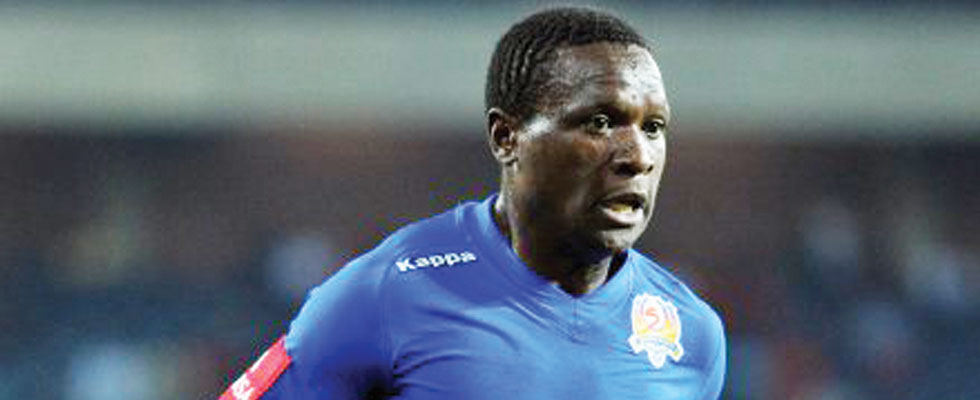 AT just the age of 22, striker Simba Sithole's football future has been plagued by injuries despite having been on the books of two of the richest clubs in South Africa-Mamelodi Sundowns and SuperSport United.
REPORT BY WELLINGTON TONI
Spotted by coach Moses Chunga while still at Pamushana High School, the Masvingo-born star shook the Premier Soccer League (PSL) in 2011 when he netted 10 goals in 11 matches for Caps United before he was shipped off to Sundowns.
There he signed a five-year deal and everyone thought the future of one of Zimbabwe's top strikers had been secured.
But lo and behold, he made no in-roads into the senior team although he featured for the Tshwane-based side in a four-team tournament and scored two goals.
He eventually had spent the last six months of 2012 at Dynamos, winning the league and cup double, after failing to land a deal with AmaTuks, who took aboard compatriot Lionel Mtizwa instead.
His sterling performances saw him back on the radar of Sundowns, where technical head Trott Moloto said at the start of this year: "We have been monitoring him since he left Sundowns. We had resolved that we should keep watching him from a distance because we believed he was a player for the future. He remains a special player to us and we are going to give Dynamos something.
"What we wanted was to bring him back after two seasons because we have two international strikers Nyasha Mushekwi and Katlego Mphela and we didn't have high expectations from him. He has been playing well for Dynamos."
Mushekwi is now playing for KV Oostende in Belgium and Sundowns have, instead, signed fellow Zimbabweans Khama Billiat and Cuthbert Malajila.
SuperSport were lying in wait for the player and former coach Gavin Hunt and his Zimbabwean assistant Kaitano Tembo invited him for a week's trial which ended in a three-year contract being offered.
Tembo said then: "There's no doubt the boy did very well during the trials and we are all very happy with his performance.
"I think he fits well into our system because we want a player who can play behind the striker and Simba demonstrated that he understands that position well because that's where we played him."
But eight months down the line, things have changed — Hunt is now at BidVest Wits, Tembo is back at his development side and Sithole has been off-loaded.
SuperSport said in a statement on their website yesterday: "SuperSport United have released their two international strikers this week. The duo is Malawian Atusaye Nyondo and Zimbabwean Simba Sithole.
"The former has joined cross-town rivals, Tuks, on a permanent deal whereas Sithole had mutual agreement with the club to part ways."
Sithole's manager Gibson Mahachi says the striker has had an unfortunate start to his international career.
"He has just been unfortunate because of injuries and Supersport also had a new coach (Calvin Johnson) coming in as well. But he is well and fully recovered from his injuries right now.
"We are working on some arrangements with Supersport, but definitely he will remain in South Africa once we sort out his release papers. We will look at other options, but I can say it has been a bad start, but he will get there," Mahachi told NewsDay Sport yesterday.
That Sithole will remain in South Africa is a problem in itself as most Zimbabwean players believe that playing across the border is the ultimate in their careers. The major problem that has risen with Zimbabwean players is South Africa has emerged as the standard and no player dreams of playing in Europe.
Knowledge Musona has since returned to Kaizer Chiefs from Germany, while Tinashe Nengomasha and Esrom Nyandoro — the best defensive midfielders Zimbabwe has produced in the last decade — will also end their careers in South Africa.
Unfortunately, even national team coaches have not looked beyond South African in their selection of players with stars like Costa Nhamoinesu and Bradley Pritchard ignored. Takesure Chinyama was not called up for national duty until his career in Poland was almost finished.
And Musa Bilankulu, who plays for Bidvest with Nengomasha, Thomas Sweswe and Denver Mukamba crudely sums up this scenario: "I think anyone who has played in the PSL believes they have arrived."