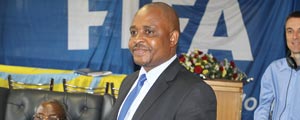 Zimbabwe Football Association (Zifa) chief executive officer Jonathan Mashingaidze's constitutional application challenging his prosecution on criminal defamation charges pertaining to the Asiagate match-fixing scandal failed to materialise yesterday and the matter was postponed indefinitely to allow the State to file its heads of argument.
By CHARLES LAITON
Mashingaidze was arrested in July 2012 following a defamation report filed against him by former Zifa chief executive officer Henrietta Rushwaya.
However, as the matter was about to be heard Chief Justice Godfrey Chidyausiku indicated that one of the issues which Mashingaidze wanted the court to decide on had already been dealt with by the Constitutional Court in a similar matter, but there was one outstanding issue pertaining to freedom of speech which the State had not responded to.
The court yesterday ordered the Prosecutor-General's representative, Edmore Makoto, to ensure that the State's heads of argument were filed early for the matter to be heard soon.
Mashingaidze's arrest followed allegations that he claimed matches involving the Warriors against Guinea and Mozambique were fixed.
Mashingaidze claimed he had spotted Warriors players Knowledge Musona, Ovidy Karuru, Thomas Sweswe and Jimmy Jambo at Rushwaya's business premises where they were allegedly receiving payment for "fixing" matches.
The Zifa boss said Musona and Karuru, who all played in the two 2014 World Cup qualifiers that ended in a defeat and a draw respectively, had gone to Rushwaya's offices to receive their payment.
Musona has since quit the Warriors and said he can only rejoin the local team if Zifa clears him of the match fixing allegations.
Mashingaidze is quoted as having said: "We confronted the players after the tip-off and we told them what their actions meant to Zimbabwe and their careers. This is a serious issue and we are going to talk to the relevant security organs in the country.
"We are aware of the plans to distract the Warriors that would go into overdrive this week, but we are saying if you fix matches, you are fixing who besides football and Zimbabwe."