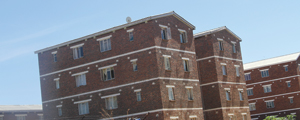 BRICKMAKING firm, Willdale, narrowed its loss for the full year ended September 30 to $0,9 million as results of a turnaround strategy adopted last July began to bear fruit. Report By Business Reporter
In 2011, the company posted a full year loss of $1,2 million.
Turnover for the period was up 47% to $5,4 million on the back of rising sales volumes.
The company's capacity utilisation averaged 40%.
"Volumes were not high enough to generate sufficient margin to cover all costs resulting in an operating loss of $0,9m being incurred after charging $436 821 to depreciation of property, plant and equipment," the company said in a statement accompanying its financial results.
"Efficiency levels in production continued to be hampered by plant breakdowns and inadequate equipment. High production losses were incurred from rain damage and as a result of old equipment."
The company said management was in the process of exploring various ways of improving production processes in order to reduce losses.
It noted that operations were affected by capital constraints emanating from liquidity challenges obtaining on the market.