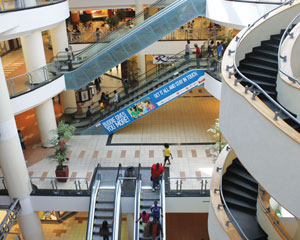 DEMAND for industrial space continues to decline on the back of subdued economic performance while retail space demand has remained high as the country becomes a net importer, an international property firm has said.
Acting Business Editor
Knight Frank, in its Africa Report for 2013 said void rates were increasing and rents depressed resulting from the underperformance of companies and company closures.
Official reports showed that over 700 companies have closed shops, from July 2011 to July 2013 with several others facing the same fate. Capacity utilisation for the manufacturing sector this year declined to 39% from 44% in 2012 mainly due to underfunding, use of antiquated equipment and high operating costs.
"Industrial investments are considered the least attractive of all sectors and the recent sales that have taken place have been entirely for owner occupation," the report states. Retail space demand, the report further stated, remained high both in the central business district and suburban locations.
"There has been an uplift in retail prime rents for new lettings in Harare of about 60% during 2012, but the sustainability of the achieved rents is doubtful in an environment of weak consumer spending," the report read.
Local fast food chains have in recent months embarked on expansion programmes, driving demand for retail properties.
Turning to take-up of office space, demand has been poor as a result of depressed economic climate in Zimbabwe.
Occupiers, Knight Frank, said they were struggling to meet rent and service charges, and the levels of arrears were generally high. Voids have increased in some buildings to over 30%.
"The absence of long-term mortgage or loan–financing has restricted residential market activity.
"Some financial institutions have been able to secure external lines of credit to support mortgages for private purchases, but the secured loans have been for relatively small amounts over short periods," the report read.