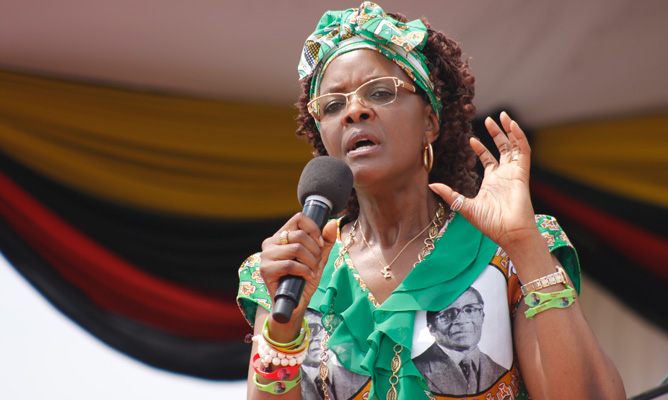 OPPOSITION MPs yesterday grilled Vice-President Emmerson Mnangagwa over First Lady Grace Mugabe's donation of farm equipment to Zanu PF supporters during her recent rallies in Manicaland and Mashonaland Central provinces.
BY VENERANDA LANGA
The MPs demanded to know who had given Grace the authority to donate the equipment, which was sourced by the government from Brazil under a $98 million loan deal.
First to fire a salvo was Chitungwiza North MP Godfrey Sithole (MDC-T), who accused Grace of abusing her role as President Robert Mugabe's wife and doling out government equipment, yet she was not in any government structures.
But Mnangagwa defended her saying: "What is happening is that the First Lady is not donating equipment, but she is handing over equipment such as tractors and irrigation equipment, and it will still plough whether it has been handed over by the First Lady or by Agriculture minister Joseph Made.
"We have equipment, which we have acquired from Brazil in three phases and under phase one, some of the equipment has arrived, but not all of it.
"That which has arrived has been allocated to provinces that each receive a minimum of eight irrigation tractors and other accessory equipment."
Unconvinced by the explanation, opposition MPs kept demanding answers on whether it was now government policy that Grace, who is Zanu PF Women's League secretary, could act on behalf of government officials.
"In terms of Parliament's standing orders that speak to issues of accountability of VPs and ministers, how can a secretary for women's affairs of a political party hand over equipment from government resources? When is Grace visiting the MDC-T rallies to do the same?" Kuwadzana East MP Nelson Chamisa (MDC-T) asked.
In response, Mnangagwa said: "I said it clearly that after the First Lady had done her political work, she then handed over, and not donated, equipment on behalf of the Agriculture minister. "
Speaker of the National Assembly Jacob Mudenda later intervened and declared that he would no longer take any more supplementary questions after opposition MPs kept firing questions at Mnangagwa.
In an unrelated matter, Chamisa asked Mnangagwa to explain the cause of policy discord among government officials.
"We have noted that in the past month ministers have been differing in policy implementation, especially IMF (International Monetary Fund) policies. There is also discord in government, where some top government officials do not attend meetings of others. Is government still intact because it will be impossible to attract foreign direct investment if there is political discord?" Chamisa asked.
Mnangagwa denied that there was discord among Cabinet ministers.
"If there is anyone who is spreading winds of discord, it should not affect the country. If you want to know what is happening in other political parties, then you must attend their meetings so that you know what is going on," he said.
But, Mabvuku-Tafara MP James Maridadi (MDC-T) claimed one of the people spreading those "winds" was Grace. "We saw the First Lady on television last week saying if you see an MDC person, beat them up. Is it not violence?" Maridadi queried.
Mnangagwa said he was unaware of this.
"He (Maridadi) cannot ask me to explain what I did not hear," he said.
Meanwhile, Mines minister Walter Chidhakwa said the Mines and Minerals Amendment Bill would be brought before Parliament in three weeks' time after opposition MPs demanded transparency on the country's minerals and publication of contracts entered into.