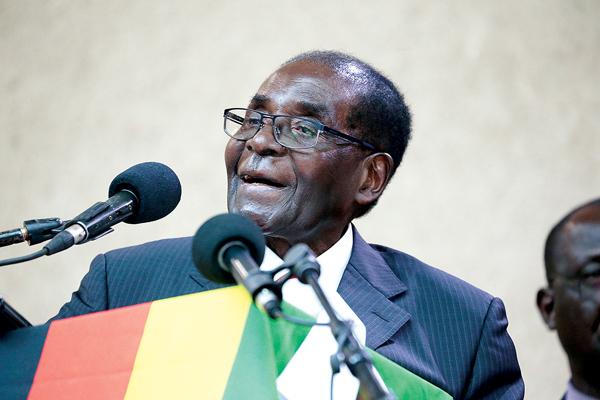 PRESIDENT Robert Mugabe's Zanu PF is apparently plotting a social media onslaught ahead of the watershed general elections due next year.
BY XOLISANI NCUBE
It is ironic that the ruling party has been ranting and raving about the political dangers of social media, with Mugabe the major voice calling on his lieutenants such as Higher and Tertiary Education minister Jonathan Moyo to "stop washing dirty linen on social media".
Party secretary for administration, Ignatius Chombo, told the youth league national executive meeting yesterday that the youths should brace for a blitz on social media, pushing the party's ideology ahead of the 2018 polls.
"Because you are learned, you speak fluent English and we have realised that you are the ones who are able to manage phones, we are hoping that, as you prepare for 2018, you will look at all electronic devices and give us advice on how we should use them and how you want it managed," he said.
In the past, Zanu PF has been outclassed by the opposition on social media, with a number of its leaders absent on some of the popular sites such as Twitter, Facebook and Instagram, among others, except for Moyo and a few others.
Mugabe has also been infuriated by growing activism on social media epitomised by the likes of exiled cleric Evan Mawarire, who pioneered the #ThisFlag movement, that rocked the country's political foundations last year.
The Zanu PF leader's administration has instead been seeking to close the social media landscape.
A few weeks ago, government arm, the Postal and Telecommunications Regulatory Authority of Zimbabwe, approved a steep increase in mobile data tariffs before a major volte-face, following a public outcry.
The move was seen as part of Mugabe's concerted efforts to regulate information dissemination ahead of the elections that could be his last as Zimbabwe's leader.
Mugabe has been in power for an unbroken 37 years since majority rule from Britain in 1980.
Chombo acknowledged that Zanu PF geriatrics, most of whom are nearing their 80s and led by Mugabe who turns 93 next month, have found it difficult to cope with information technology trends despite the government adopting e-governance as part of its policy.
"We have realised that we normally get challenges in that area. We get challenges in that. People like me are even failing to get a good picture on WhatsApp. I have to ask my grandson, who does it so quickly; I really don't understand how he does it," 65-year-old Chombo said. "So you must teach us and others who do not know how to use these devices for the benefit of the party in a modern society for a modern party that uses modern technology."
Chombo was flanked Kudzi Chipanga, the first under-35 Zanu PF activist to lead the ruling party's youth league.
The two slammed growing internal power struggles in the ruling party, declaring that those who want to succeed Mugabe need to wait for the 2019 congress, with the youth league leader adding his lieutenants are "ready to fight".