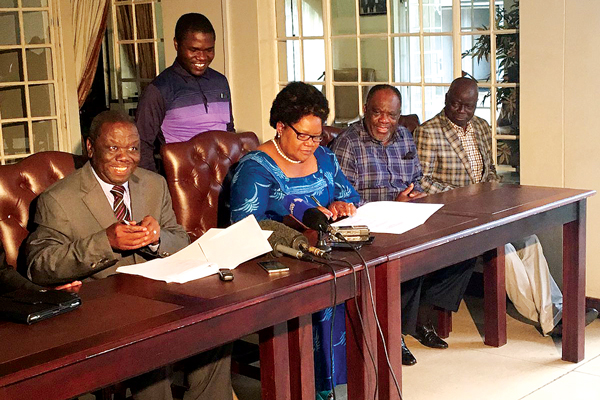 FORMER Vice-President Joice Mujuru and MDC-T leader, Morgan Tsvangirai, yesterday signed a memorandum of understanding (MoU) signifying their commitment to working together and fielding a single candidate to challenge President Robert Mugabe in next year's presidential race.
BY XOLISANI NCUBE
Addressing journalists at the signing ceremony at his Highlands home, Tsvangirai said his party would soon sign similar deals with other opposition parties and other stakeholders as part of their grand plan to dislodge Mugabe's Zanu PF regime in the upcoming elections.
The MoU, which provides a roadmap for talks on a possible coalition for the 2018 elections, ends months of speculation amid reports of bickering and jostling for posts among the opposition leaders linked to the grand coalition project.
"We have chosen this day to take the first step to bring all Zimbabweans under one roof so that we can work together to remove this unmitigated repression and misgovernance that pervades our lives," he said.
"I am pleased to inform the nation that today we have signed a memorandum of understanding with Joice Mujuru of the National People's Party (NPP) to establish a pre-election alliance en route to the establishment of a coalition government, which shall drive a comprehensive democratisation and transformation agenda.
"This is just the beginning of the building blocks towards establishing a broad alliance to confront Zanu PF between now and the next election in 2018.
"Similar arrangements will be entered into with other political formations and we will inform you as it happens, as we have done today."
The MDC-T leader said other stakeholders, such as traditional leaders, the church, labour, vendors, war veterans, civic society, business and the generality of Zimbabweans, would also be roped in to ensure the project is all-encompassing.
"This is our collective struggle and I call upon the people of Zimbabwe to join us in working together and in playing your part so that we can reclaim our country, our freedom and our dignity," Tsvangirai said.
"Every Zimbabwean, from every station of life, knows it too. So we should all stand together in unison and say enough is enough.
"As President Mugabe enters the sunset of his life, it is incumbent upon all of us to pick the pieces and rebuild our country together.
"I hope the understanding we reached today, and which we will reach with many others, will culminate in a solid political co-operation agreement that should usher in a new governance culture in our country.
"Today, marks the beginning of Zimbabweans coming together in building an inclusive society that prides itself in leaving no one behind."
Mujuru said the NPP was willing to work with other opposition movements to remove Zanu PF.
"This is just a roadmap of how we shall move from here to the Promised Land. It provides a platform to talk to each other without missing out on important aspects," she said.
While this raised optimism that Mugabe could be unseated, University of Zimbabwe lecturer and political analyst, Eldred Masunungure, said a coalition alone was not enough to dislodge the veteran leader.
"It adds and attracts more numbers of voters, but I doubt if it is formidable enough to remove Zanu PF. So far Zanu PF has proved that it has the depth and capacity to win any election," he said.
Another analyst, Alexander Rusero, said more players should join the coalition to consolidate and give it more impetus.
"The two are just there; they need everyone in the opposition ranks on their side so that they have enough support and could attract more even those who are neutrals," he said.