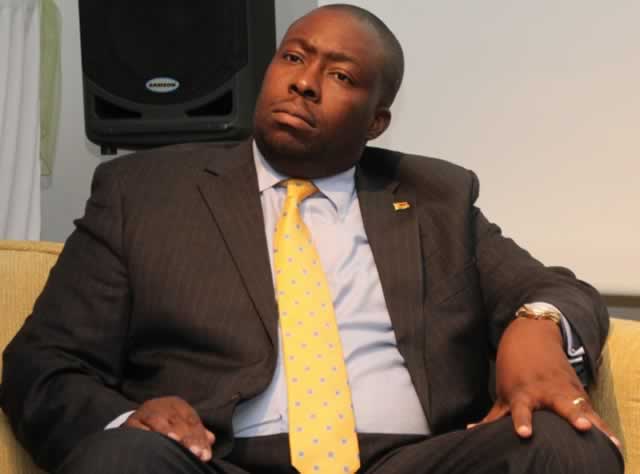 UNDER-FIRE Zanu PF political commissar, Saviour Kasukuwere has threatened a gloves off affair, as he takes his antagonists head-on in today's politburo meeting, which is set to decide on his fate following accusations he had formed parallel structures to topple President Robert Mugabe.
BY OBEY MANAYITI/RICHARD CHIDZA
Kasukuwere was left hanging by a thread last week after his issue was tabled before the politburo, but later deferred to today.
In a video recorded in Mashonaland Central, Kasukuwere, at what appeared to be a funeral, declared he was ready for a fight against his adversaries, whom he accused of working to topple Mugabe.
"He is our President and no one will waylay him. We are there to defend our President and don't listen to the nonsense about the chaos in Mashonaland Central," he said.
"We know who was behind all those nefarious resolutions. We will be going back to the politburo on Wednesday (today) and we will be telling them."
Speaking figuratively, Kasukuwere said he did not fear taking his accusers head-on.
The Local Government minister said he was aware of a plot to remove Mugabe from power, which is similar to the one that caused the firing of former Vice-President Joice Mujuru from the party.
"I decided to say this because you might be confused, the issue is so small," he said.
"There are those who think they have been delayed (in succeeding Mugabe), but this is what caused us to fire Mujuru. We will not hesitate to fire you if you think you have been delayed."
In a thinly veiled attack, widely seen as targeting Vice-President Emmerson Mnangagwa, who has been touted as a front runner to take over from Mugabe, Kasukuwere said he was ready to expose those who have been nicodemusly approaching him for support.
"The problem of Mashonaland Central is that we refused factionalism," he charged.
"We refused to be co-opted into a scheme to remove the President. We refused and we have evidence to that effect.
"We will be presenting it before the leadership and say on this day, you approached me and said this, but I refused; on that particular day, you came to our province with helicopters with so and so and went to Chiweshe for a meeting.
"We see it. We can smell it and we can sense it."
Mnangagwa and army commanders normally use helicopters when traveling within the country.
The Kasukuwere probe report, done by a team led by Speaker of the National Assembly, Jacob Mudenda, recommended that the secret service investigates whether Kasukuwere was guilty of treason charges.
In another video in which Kasukuwere was addressing a private meeting of close associates, the Local Government minister said Mugabe had not rested since 2013.
"He has not been given a chance to deliver on behalf of the country, because everyone close to him thinks it's their time," he said.
"Instead of allowing him time to deliver, they say no 'it's my time to take over'.
"Mugabe has not been given a chance to attend to road construction, construction of dams, hospitals.
"He is always checking behind his back. He cannot sleep because he is worried someone wants to take his position. Mugabe feels like he is being harassed by an evil spirit."
Zanu PF is torn between two distinct factions, the G40 group, which is reportedly opposed to a faction said to be pushing for Mnangagwa to take over from Mugabe, and Lacoste, which is sympathetic to the Vice-President.
First Lady Grace Mugabe has also been touted as a possible successor to Mugabe along with Defence minister Sydney Sekeramayi, whose name was recently thrown into the hat by Higher Education minister Jonathan Moyo.
The Local Government minister described his opponents in the Zanu PF succession struggle as "lizards", which could be derogatory of Mnangagwa, who is referred to as Ngwena (crocodile).
"The question on the table, ladies and gentlemen, without question, is the ambitions of the lizards. They want Mugabe's position," Kasukuwere told his audience to bouts of laughter and applause.
"There is no province in this country that is not undergoing some form of subversion. (Oppah) Muchinguri and others want (Samuel) Undenge removed in Manicaland. We know about it. They cannot tell us about democracy, they cannot tell us that they are revolutionaries.
"We know they are doing the same things we accused Joice Mujuru of doing. They are actually doing that 10 times better.
"They have a shadow province in Manicaland fronted by Mike Madiro, Mashonaland West, Mashonaland Central comprising (Provincial Affairs minister Martin) Dinha and (Kazembe) Kazembe, Mashonaland East led by Biggie Matiza and a shadow province in Harare.
"There was a meeting after the rally last week."