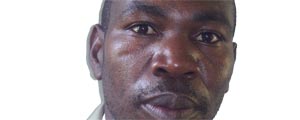 SUSPECTED soldiers brandishing AK47 rifles yesterday reportedly disrupted an MDC-T rally and beat up party supporters at Samambwa business centre in Zhombe, the Midlands Province.
REPORT BY BLESSED MHLANGA STAFF REPORTER
MDC-T ward chairman Levy Sithole, who was among those who were reportedly abused, told NewsDay that the soldiers attacked over 50 people who had gathered to attend the rally.
He said Zhombe MP Roger Tazviona had been scheduled to address the rally, which he claimed had been cleared by Zhombe police.
"We were due to have a rally, but then soldiers came and ordered us to disperse," Sithole said.
"I then attempted to explain to them that the rally had been cleared by the police, but they would have none of it, telling us they were above the law."
He said the soldiers were part of a group camped at Samambwa Secondary School overseeing distribution of farming inputs under President Robert Mugabe's $20 million farm inputs scheme.
Tazviona claimed he arrived at the scene during the skirmishes and said: "People have been badly injured here after a senseless and unprovoked attack by members of the army. They attacked us because we are from the MDC-T. They are supposed to be apolitical."
Contacted for comment, national army spokesperson colonel Alfios Makotore demanded written questions, but had not replied to them at the time of going to print.
"I can only respond if you deliver questions in writing to KGVI. They have to be in hard copy because we won't accept them on email," Makotore said.