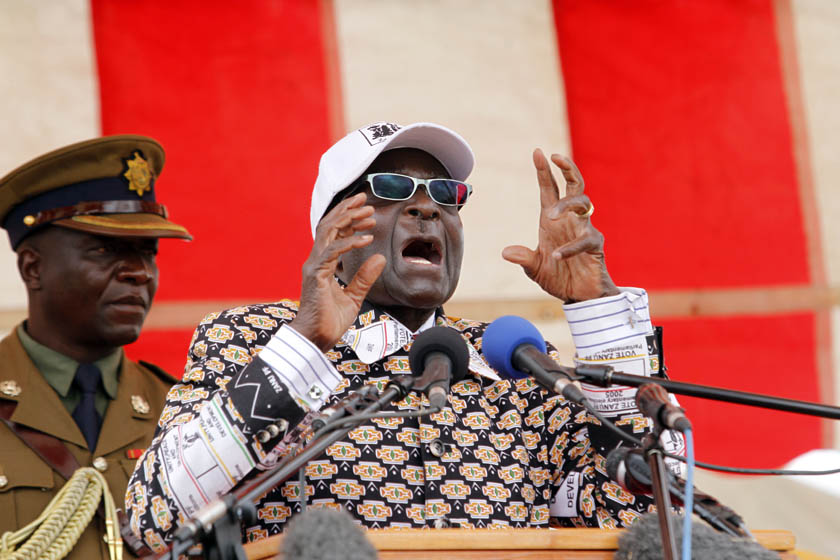 NewsDay gives you a live report on the Zanu PF rally in Chitungwiza where the party leader President Robert Mugabe is addressing this afternoon.
Updates by Tinotenda Samukange in Chitungwiza.
13:25 Mugabe ends his address
13:10 Mugabe says Tsvangirai wants peace but his lieutenants do not share the same sentiments. "VaTsvangirai vanodawo runyararo asi vana vavo ndivo vane pamuromo.
13:07. In a typical donkey and carrot style, Mugabe promises to give tractors to farmers if he wins the election.
13:05 Mugabe speaks against rape. 'Vasingagone kunyenga huyai ndikudzidzisei," he says. (Those who cannot propose love to women, come and let me teach you.)
12:59 Meanwhile in Midlands, Tsvangirai has just addressed a rally at Nyimo in Sanyati and is now on the way to Nembudziya.
12:56 Mugabe promises his party will solve the water crisis in Chitungwiza and says the MDC-T dominated council has misused funds for water and electricity supplies.
12:33 Two people have fainted amid Mugabe's address and medics are attending to them….as Mugabe accuses NGOs of spying for information on behalf of western countries.
12:34 Mugabe claims Western countries tricked slain Libyan leader Muammar Gaddafi into a pact before invading his country. Gaddafi was killed after Libyans rose against Gaddafi's four decade rule.
12:28. Mugabe continues to beg people to 'vote wisely' bearing the 2008 remnants in mind. Says it is not too late to turn to Zanu PF as 'chinja' (MDC) 'is about changing our culture.'
12:15 Mugabe mourns his party's bashing in the 2008 elections. "2008 manga mavarairwa muvengi ndokupinda hoyo.." (In 2008, you had relaxed and the enemy sneaked in). Mugabe is reportedly fighting to avoid being decampaigned by official from his own party in what has become known as Bhora Musango. The 89 year old leader has allegedly set up parallel campaigning structures as reported by our sister paper, The Standard. Read the story here.
12:12 Mugabe praises spirit medium Mbuya Nehanda, who was sentenced to death by the colonial regime in 1898, and says it was her refusal to accept conversion to Christianity and her loyalty to the African Tradition that made her praise-worthy.
12:00 Mugabe starts his address with a chronicle of the country's liberation struggle, claiming it is because of Zanu PF's role in the Second chimurenga that people have come to the rally.
11:59 Shamu compares Mugabe's educational qualifications with those of US President Barack Obama and says Mugabe is more educated.
This is not the first time Shamu has hero-worshiped Mugabe as in 2011, he said Mugabe was like Cremora. To see the 2011 story, Click here. 11:55 Party political commissar Webster Shamu goes on stage, denounces other political parties, praises Mugabe as an 'icon of peace.'
11:40 Mugabe arrives and is accompanied by his wife, first lady Grace. Mugabe goes round in a Ford Ranger truck, saluting the crowd .
11:35 Meanwhile, reports from Nembudziya, where MDC-T leader Morgan Tsvangirai is addressing a rally this afternoon, indicate that thousands of party suporters have already gathered at the venue and are waiting for Tsvangirai's arrival.
11:20.Members of the apostolic sect have their reserved places in the terraces…as musician Cde Chinx and his crew take the stage.
11:00
As more and more busses and lorries full of Zanu PF supporters arrive at the venue thousands continue to pour into the Chibuku Stadium as preparations for the start of the event gather momentum. Others are waiting outside the stadium as it appears the stadium may become too small for the numbers. Meanwhile Mbare Chimurenga choir is entertaining the crowd.
Additional updates by Wonai Masvingise/ Tapiwa Zivira