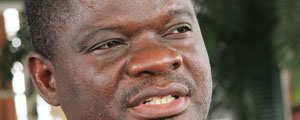 THE MDC-T's chief elections agent Morgan Komichi (49) will miss out on the elections scheduled for Wednesday after Harare magistrate Anita Tshuma turned down his bail application this afternoon on the basis that his release from custody would not augur well with the political atmosphere in the country.
Allegations against Komichi are that on July 25 at the Hrarae International Conference Centre where special ballots were being counteed, he said a certain person brought to him an envelope which he said he had picked in a bin.
Komichi then presented the envelope to the complainant, Zec, and alleged that he had unsealed it out of curiosity. It is alleged that he discovered three ballots — for the Presidential, House of Assembly and local authority elections — in the envelope.
Komichi is said to have alleged that Zec officials were destroying ballot papers used by the police officers, which were in favour of MDC–T candidates during the special vote held from July 14 to 15.