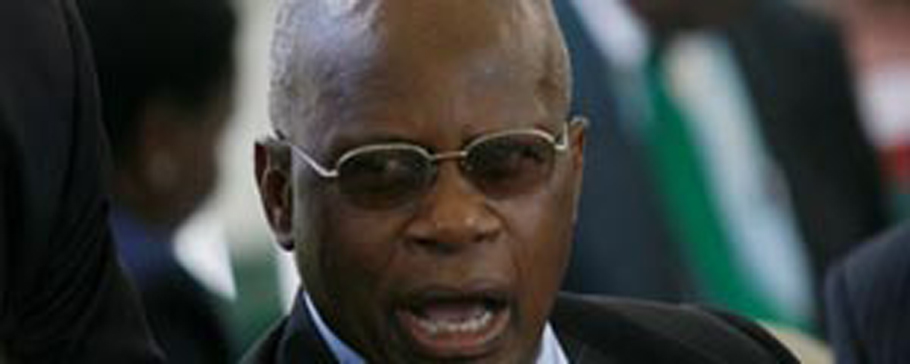 ZANU PF has challenged MDC-T leader Morgan Tsvangirai to approach the courts once election results are announced over his allegations that Wednesday's poll was rigged.
REPORT BY JOHN NYASHANU
Addressing a Press conference in Harare yesterday, the party's legal affairs deputy secretary Patrick Chinamasa said local courts were capable of handling electoral disputes and there was no need forTsvangirai to panic.
"If there is any Presidential candidate or National Assembly candidate who is dissatisfied with what happened, the courts are there, the Constitutional Court is there, the Electoral Court is there and we have set up these courts jointly in order to address these disputes and the requirement is that these courts would give their decisions expeditiously . . . So I want to invite Mr Tsvangirai to please avail himself to these constitutional provisions so that he can get the remedies that he thinks he deserves," Chinamasa said.
Pressed to explain how the MDC-T leader would get a fair hearing considering allegations that the judiciary system was staffed with Zanu PF sympathisers, Chinamasa became emotional.
"That is rubbish, rubbish. The truth of the matter is we don't even decide who the judges are. They come from the Judiciary Service Commission. Some of them I meet them at the swearing-in. As minister, how do I know a competent lawyer? I don't go into court . . . They only rubbish the courts when decisions are against them . . . That is why they went to rubbish the courts to the Sadc extraordinary summit in Maputo," Chinamasa fumed.
The outgoing Justice minister also went on to defend the under-fire Zimbabwe Electoral Commission (Zec) and the Registrar-General (RG)'s Office over their handling of the elections, saying Zec in particular was a creation of all parties in the inclusive government.
"What some of you may not know is that the composition of the current commissions is tripartite. It's not Zanu PF. We negotiated and persons appointed as commissioners were drawn from Zanu PF, MDC-T, MDC Ncube, so there cannot be any doubt about their impartiality," he said.
Zec and the RG's Office have been accused of aiding Zanu PF through manipulation of the voters' roll.