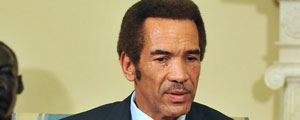 Botswana President Ian Khama is headed for a clash with President Robert Mugabe after calling for an independent audit of last week's harmonised election results and pushing for the country to be placed on the agenda of the Sadc summit pencilled for Malawi later this month.
JOHN NYASHANU
In a statement yesterday, the Botswana government said while much of the polling was peaceful and free, it was not fair, a basis on which elections could be classified as credible.
". . . there is need for an independent audit of the just-concluded electoral process in Zimbabwe. Such an audit will shed light on the conduct of the just-ended election and indicate any shortcomings and irregularities that could have affected its result, as well as the way forward," part of the statement reads.
Botswana, which sent an 80-member observer team led by the country's former Vice-President Lieutenant General Mompati Merafhe, cited numerous incidents that discredited the polls.
". . . the voters' roll was released on the 29th of July 2013 only in hard copy, two days before the election; questions about both the inclusion and exclusion of people on the rolls; questions over the forms of identification required to vote in the election; as well as credible allegations of people otherwise being denied the right to vote. Concerns were also raised about the conduct and integrity of the Special Voting Process that was carried out on 14th-15th of July 2013.
"There is no doubt that what has been revealed so far by our observers cannot be considered as an acceptable standard for free and fair elections in Sadc. The Community, Sadc, should never create the undesirable precedent of permitting exceptions to its own rules.
"The Government of Botswana hopes, therefore, that at the next Summit of Sadc Heads of State and Government, which is scheduled for later this month in Lilongwe, Malawi, this issue will be placed on the agenda," the neighbouring country said.
Contacted for comment last night, Zanu PF spokesperson Rugare Gumbo rubbished Botswana's claims, saying the country was an agent of Western powers who had their own agenda to see Mugabe toppled.
"We are surprised that Botswana is a member of Sadc which issued a statement saying the elections were peaceful and fair. The AU (African Union) also said the elections were free, fair and credible. We appreciate they (Botswana) have good relations with the UK, USA and Australia, but we are a sovereign country which will not be moved by such cheap politics," Gumbo said.
Relations between Mugabe and Khama have been frosty since the latter took office in 2008 following another disputed poll.
At the Global Political Agreement signing ceremony on September 15, 2008, Mugabe lamented what he felt was Botswana's unwarranted involvement in Zimbabwean politics.
"Botswana, Botswana, Botswana — oooooh!" Mugabe said.
Earlier on, Mugabe had accused his neighbour of harbouring alleged MDC-T activists who he claimed were receiving military training there to remove him from power.
The alleged activists included Zimbabwe Peace Project director Jestina Mukoko, who was abducted and spent weeks at unknown locations before she was eventually brought to court.
Soon after the announcement of the March 2008 presidential election results, MDC-T leader Prime Minister Morgan Tsvangirai sought refuge in Botswana.