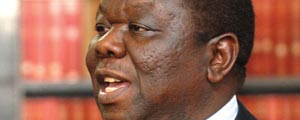 MDC-T leader Prime Minister Morgan Tsvangirai yesterday claimed his party had received intelligence reports of a planned massive crackdown on senior members of his party by State security agents.
SENIOR REPORTER
In a Facebook post, Tsvangirai said the alleged crackdown involved preparation of search warrants targeting top MDC-T officials.
"First, it was our ordinary supporters targeted for intimidation after the sham 31 July elections.
Now, I hear State agents are working overtime to get search warrants targeting dozens of our top officials," Tsvangirai said.
"I want to warn that anyone who thinks such repression will stop us from reclaiming our victory is daydreaming. The people of Zimbabwe have had enough of this brazen electoral theft and repression. Now is the time to say enough is enough."
Tsvangirai's spokesperson Luke Tamborinyoka, however, declined to divulge details about the alleged crackdown saying the issue was sensitive.
"We have information that they are preparing search warrants as we speak. We cannot get into the details right now, but we have insiders who are telling us that they want to swoop on the top officials surrounding the president (Tsvangirai). They are insecure in their victory, so now they want to target innocent people," Tamborinyoka said.
However, national police spokesperson Senior Assistant Commissioner Charity Charamba dimissed the claims by the MDC-T.
"What are they afraid of? There is no search warrant, if it was there I would know," she said.
MDC-T MP-elect for Harare West Jessie Majome said her supporters were being stalked by suspected Zanu PF supporters.
"There is a community in Goodhope that is being targeted for supporting me in Harare West. I have heard that there is a list of my supporters that has been compiled at Zanu PF headquarters. Last night some people came and took two people and now people there fear for their lives," Majome said.
"They are being victimised for openly supporting MDC. It is really tragic that something like this can happen. They (Zanu PF) should just celebrate their victory and leave Zimbabweans in peace," she added.