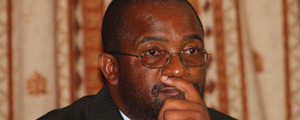 A WAR has erupted within the MDC-T over reports that senior party officials are jostling to take up mayor's posts countrywide, a move some said is inspired by greed.
MOSES MATENGA
Councillors last week said MDC-T leader Morgan Tsvangirai should stamp his authority and block all the party bigwigs who were positioning themselves for mayoral positions throughout the country.
Several senior MDC-T officials, among them spokesperson Douglas Mwonzora, outgoing Home Affairs co-minister Theresa Makone, outgoing Energy minister Elton Mangoma and party provincial spokesperson for Harare Obert Gutu, were eyeing the Harare mayoral post.
Outgoing Harare mayor Muchadeyi Masunda is also interested in the post.
Former Speaker of Parliament Lovemore Moyo has been linked with the mayoral post in Bulawayo while in Mutare outgoing Housing and Social Amenities minister Giles Mutsekwa has also expressed interest. In Chitungwiza former Housing minister Fidelis Mhashu is believed to be eyeing the post.
Councillors told NewsDay that it was not proper for those that had lost elections to find solace by being mayors.
"That's greed and immoral. We have been fighting and we have faced tough times head-on and now they come and try to bulldoze their way.
If they go on and do that, it will mark the end of the party," said a councillor on condition he is not named.
Warship Dumba, a former councillor who is interested in the Harare mayoral post, said the jostling for Town House was now tantamount to "power struggles".
"I hear everyone now wants to be mayor of Harare. It seems power struggles have intensified," said Dumba.
On statements by secretary for Local Government Killian Mpingo that the mayor would be chosen from among the councillors, Dumba said: "That's not what the law says; maybe he is giving us a Zanu PF position which is not what the law says."
Losing MDC-T parliamentary candidate for Chegutu West Chalton Hwende said the mayoral position had drawn so much interest in the advent of the new Constitution.
"With the new Constitution, this position is now equivalent to a Governor for Harare and Chitungwiza. With devolution it's an opportunity for us to show how we manage differently from Zanu PF, so I think we need our best man there. If I had a way ,I would go with (MDC-T secretary-general Tendai) Biti after he proved himself at the Finance Ministry," Hwende said.
The party's secretary for local government Blessing Chebundo said the mayor's position for Harare and Bulawayo would be more involved, so the person to take that should be of integrity.
"The party leadership will decide on that in view of the fact that he will not be an ordinary mayor, but chairperson of the provincial council," said Chebundo.