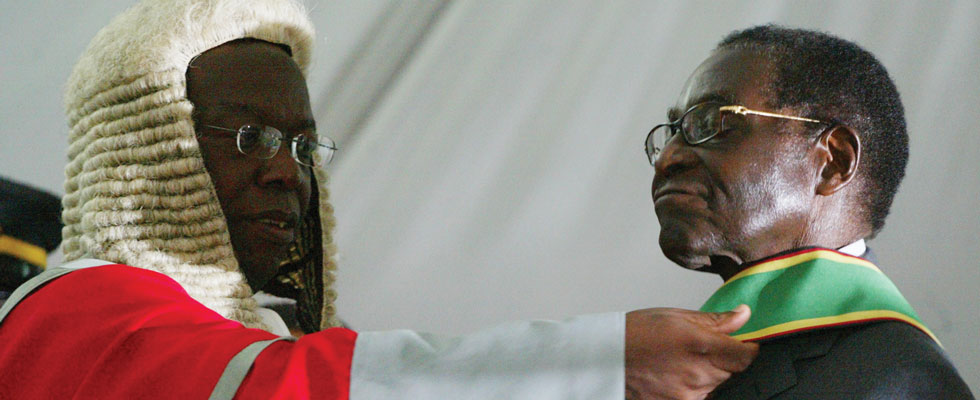 ZIMBABWEANS across the political divide have expressed mixed feelings over the inauguration (for the eighth time) of President Robert Mugabe.
REPORT BY VENERANDA LANGA
While some are jubilant about Mugabe's swearing in, there are others who said they will "watch the event in tears".
MDC-T spokesperson Douglas Mwonzora said the inauguration was a non-event due to the manner the elections had been handled.
"Certainly we do not respect the election process in which Mugabe is going to be sworn in as President," said Mwonzora.
"We still maintain that the election was stolen from us and, therefore, to us it is a non-event," he said.
Mwonzora's views were echoed by the director of Kwekwe-based Zimbabwe Organisation for Youth in Politics, Emmanuel Nkosilathi Moyo, who said Mugabe's inauguration will be watched in tears by many Zimbabweans. Another five years of Mugabe rule, he said, would herald another five years of economic nightmare and suffering for the people of Zimbabwe.
"Considering the disputed elections, Mugabe's inauguration will be watched in tears by most Zimbabweans who cannot bear to face another five years under the rule of the octogenarian leader. The way Tsvangirai's petition was handled by the courts clearly showed Zimbabwe that Mugabe is in control of everything in this country. The people's greatest fears are that a government which is 100% Zanu PF is likely to destroy the economy and take it back to national misery of 2008 where people went hungry, without medicines, without education and without hope," said Moyo.
He said he could see Zimbabwe falling back into a dark future with Mugabe as President.
However, other political activists like Free Zimbabwe Congress Party member James Katso said those who were unable to accept that Mugabe will be President for another five years were jealousy people whose dislike of Mugabe and Zanu PF were nothing, but a case of sour grapes.
He, however, said the inauguration ceremony was not going to be as exciting as it was in 1980 since it was no longer a new phenomenon with Mugabe.
"As a matter of fact Mugabe's inauguration is an event which has been happening since 1980 and now the process is just replicating itself as this is not the first time he has been inaugurated. I, however, would like to differ with some people and say that his election into power was legitimate because the Sadc and African Union have already endorsed it. Even the European Union said they were going to stand by the Sadc and African Union position and to say it was not credible is double standards. Of course there were imbalances here and there, but at the end of the day we should stand by what people have said during the elections," Katso said.
He said the political parties that were unhappy about the inauguration failed to amass support while Zanu PF was experienced in political affairs and had managed to attract support.
Former Magwegwe legislator Felix Magalela Sibanda said he was seeing disappointed faces everywhere, yet the country was supposed to be in jubilation.
"I am rather surprised that the people of Zimbabwe are behaving like in 1980 after elections where there were two sections of society — one which was happy and the other very unhappy about the outcome. There are people who are mourning because there is a lot of uncertainty in the manner the country will be run. It is unfortunate that people had high expectations about the elections, but it was disputed," Magalela Sibanda said.
Leader of pressure group March 11 Movement, Gilbert Kagodora said Mugabe's inauguration was no cause to celebrate.
"The election issue remains a farce. Even though MDC-T leader Morgan Tsvangirai filed a notice for withdrawal of his petition the courts rejected that. Trying to sanitise this event is like putting lipstick on a frog," Kagodora said.
Silver Bhebe, a political analyst said Zimbabweans should not allow themselves to be prisoners of the past.
"The election period is now over, and we need to move on as a nation and no one should hold this country at ransom. Honestly I think the future for Zimbabwe is very uncertain. The future of Zimbabwe will depend on whether the Zanu-PF government reform agenda comes up with a policy shift especially with regards to indigenisation, because it is scaring off the much needed investors," said Bhebe.
He suggested Zanu PF should drop indigenisation, eradicate corruption, engage the international community, restructure the Reserve Bank of Zimbabwe as well as reallocate underutilised land to competent farmers regardless of race.
"Zanu PF should retain the multi-currency regime for at least two years, strengthen fiscal discipline by downsizing cabinet and exercise proper accountability especially in diamond mining. They should also refrain from looking West or East, but should look forward and harness all opportunities available," he said.
MDC-99 leader Job Sikhala said the inauguration should take place to allow the country to move on.
"We have got major events such as the UNWTO (United Nations World Tourism Organisation) General Assembly which is a few days away and it cannot take place without a government in place. However, Zanu PF has been there for the past 33 years and their record has not been impressive. They campaigned on the platform of economic empowerment and we will closely audit them on that front to see if the policy is not going to be another land reform grab which only benefited Zanu PF activists," Sikhala said. "The national economy does belong to all Zimbabweans and we eagerly wait to see how those opposed to Zanu PF will be treated in the programme. Mugabe might want to leave a last impression and a legacy by trying hard to make the economy move. However, the greedy vultures in his party will always be there to scuttle his efforts. Success will depend on how he will deal with the corruption."