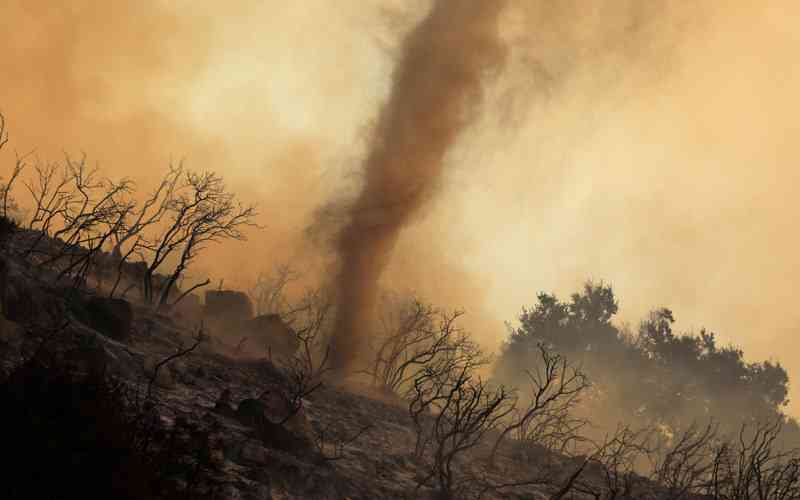 Africa is highly vulnerable to climate change due to its low adaptive capacity and dependence on climate-sensitive sectors like agriculture, forestry, fishing and resource extraction. Developing sustainable and resilient systems requires engaging stakeholders in capacity building, policy framework development, innovation, research, and mobilising financing from diverse sources.
The African Development Bank Group (AfDB) estimates that the continent needs approximately US$3 trillion to execute its climate change commitments by 2030. Unfortunately, the current finance is only a small percentage of the estimated amount.
Moreover, Africa requires more professionals in climate change science, mitigation, adaptation, and risk management, as the Intergovernmental Panel on Climate Change emphasises. Many African countries have limited access to technology due to poor infrastructure, high costs, or limited availability, making building capacity through technology challenging.
Capacity building
Capacity building is essential for institutional development and mobilising financing and partnerships. Weak institutional frameworks, and lack of co-ordination, added to limited public awareness and understanding of climate change, challenge the development of capacity-building programmes. In 2014 the AfDB launched the Climate Change Capacity Development (C3D+) programme to assist African countries in fighting climate change by providing technical assistance, training, and knowledge sharing.
Thus far, the programme has supported 38 African countries and trained over 1 000 climate change experts on a continent of 1,4 billion people. The figures are not consistent with the demand.
The African Union Commission, on the other hand, promotes climate services through the African Ministerial Conference on Meteorology, which aims to develop meteorological services in Africa, improve forecasting and early warning systems and provide climate information to facilitate better decision-making.
A 2019 United Nations Development Programme (UNDP) study found that scaling up education and training in climate science and management can help in building African institutional capacity. Only 9% of African countries were reported to have integrated climate change into their education systems. African countries can better prepare their citizens, future generations, and relevant institutions to address climate change challenges by integrating climate change into education systems.
But these efforts must be financed and supported with collaborations to achieve the 2030 target.
Policy frameworks to address climate change
African countries require strong political will, institutional frameworks, and policies to combat climate change. Many countries have limited capacity to develop and implement climate policies. Lack of regional co-operation and co-ordination also hinders effective policy implementation.
Strengthening policy frameworks aligned with international climate commitments, such as the Paris Agreement, is crucial for climate change resilience. The African Renewable Energy Initiative launched in 2015 aims to increase the share of renewable energy to 50% by 2030 and to mobilise US$10 billion in investments. AREI identified 280 potential energy projects with a capacity of 10,5 gigawatts, and implementation is progressing with 76 projects of 2,5 gigawatts.
The UNDP has equally supported several African countries in developing their Nationally Determined Contributions (NDCs), which are the commitments made by countries to reduce greenhouse gas emissions under the Paris Agreement. In 2019, the UNDP supported 17 African countries in revising and submitting their NDCs, which outlined their climate change mitigation and adaptation actions.
However, despite all these efforts, political priorities in most of the continent's countries still do not align with addressing the climate crisis.
Innovation and research
Africa needs more investment in research and innovation as the current funding remains limited. The continent's challenges are lack of skilled researchers and professionals due to brain drain, limited access to information, and poor infrastructure. Improving infrastructure, increasing funding, promoting collaboration, and creating advanced climate technology for research and innovation are essential in building resilience.
The African Union established the African Climate Technology and Finance Centre and Network in 2016. The centre is committed to developing clean technology innovation, reducing greenhouse gas emissions, and achieving climate resilience. In 2020, the AU launched a fund to invest in promising renewable energy start-ups in Africa.
The African Development Bank's Green Mini-Grids programme promotes access to renewable energy and supports mini-grid development in rural areas. The programme has provided electricity to over 390 000 people by supporting 95 mini-grid projects through innovative business models.
African research institutions are working on climate change-related issues like modelling, adaptation strategies, and mitigation options. The International Livestock Research Institute has also identified climate change impacts on livestock systems in east Africa and strategies to reduce emissions from the sector.
However, these developments are a drop in the ocean compared to other continents as greenhouse gases remain unaccounted for, and carbon markets remain abstract.
Stakeholder engagement
Inadequate engagement of excluded climate change stakeholders, such as marginalised groups and civil society institutions, hinders policy and programme development, while limited budgets inhibit countries from supporting engagement efforts. African countries must encourage resource-efficient co-ordination of efforts to engage differently-abled affected entities in climate issues like public education, stakeholder consultations, and community-led initiatives.
Innovative stakeholder mobilisation efforts such as the African Climate Reality Project training young African leaders to become climate ambassadors must be supported. The Climate Smart Agriculture Youth Network is a network of African youth-led organisations established in 2014 with the aim to promote climate-smart practices in the agricultural sector and reduce greenhouse gas emissions while promoting food security and resilience to the impacts of climate change. In 2020, the network had over 1 800 members representing several African countries.
Green Africa Foundation is a community-led organisation based in Kenya that promotes sustainable land use practices, reforestation, and climate-smart agriculture. The foundation engages local communities through education, training and community-led initiatives. It was established in 2005 and has impacted more than 1,3 million people and planted over 3,5 million trees.
Stakeholder engagement is critical to climate change mitigation and adaptation projects. Early and continuous engagement is essential, including community participation in decision-making to ensure project acceptance, promote ownership, and enhance project effectiveness. By working with stakeholders, African countries can increase awareness, promote participation, and develop effective policies and programmes to address climate change impacts.
Mobilising finance
Mobilising finance for climate change and resilience efforts in Africa is hindered by weak financial systems, lack of financial literacy, limited access to credit and banking services, and insufficient incentives for private sector investment in clean energy, agriculture, and other sectors. Addressing these challenges requires international support, strong financial systems, stable policy environments, incentives for investment, and a balanced approach to sustainable development and climate change.
Mobilising finance for climate change and resilience in Africa remains challenging due to limited international financial resources, fiscal constraints, and low financial inclusion. McKinsey Global Institute's 2020 report notes that nearly 60% of the adult population in Africa does not have bank accounts, which hinders the flow of finance for the region's climate change and resilience activities.
The financing gap for sustainable infrastructure in Africa is estimated to be around US$100 billion annually. Despite the creation of initiatives like the Africa Investment Forum, private sector investment in climate change activities is limited.
Takudzwanashe Mundenga is a journalist, NSERC-CREATE Climate Smart Soils fellow, and MSc candidate in capacity development and extension at the University of Guelph, Canada. His expertise lies in climate change and soil science communications.
Related Topics