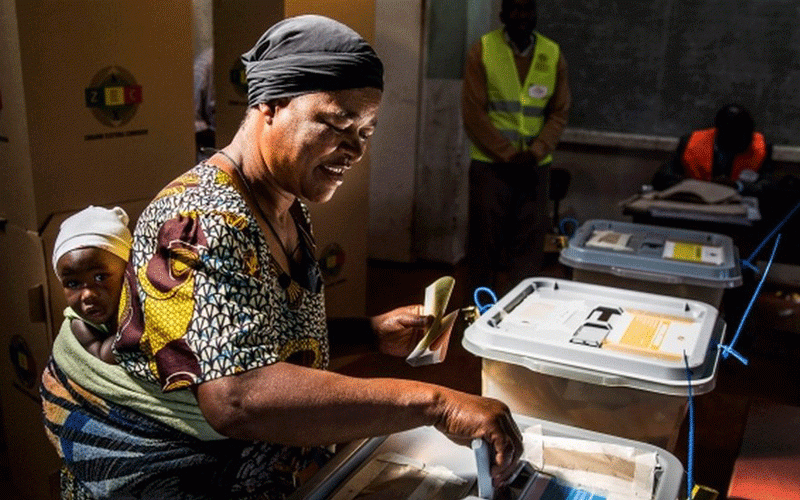 AN effective democratic system needs regular, inclusive, transparent and credible elections. It is against this backdrop that I seek to expound the voter registration question as it is one of major prerequisites that satisfy electoral integrity and credibility.
Voter registration is the requirement for citizens and residents to check in with some central registry, specifically for purposes of being allowed to vote. In Zimbabwe, voter registration is enshrined in section 67 of the Constitution under individual political rights as read together with section 17A of the Electoral Act.
Voter mobilisation is the effort which a party, candidate or organisation makes to inform and assist voters and persuade them to register and vote.
In electoral politics, it is numbers obtained from votes that determine who occupies local municipalities, Parliament or State House. In other words, voters are the oxygen which political organisations need for their existence and survival.
Procedures for voter registration
Voter registration procedures should be clearly stipulated by law. In Zimbabwe, section 17 of the Electoral Act deals with voter registration and it is very express in what is required by citizens in order to qualify for voter registration.
One is required to produce a national identity card or valid passport to be able to register as a voter. Proof of residence is another requirement, but this has since been relaxed as many potential voters were facing challenges in acquiring these.
The voter register does not need to include personal data other than that which is required to identify a voter and establish eligibility. Any requirement for additional information such as ethnicity, race or religion, creates scope for discrimination.
Topography of Zim voter registration
Zimbabwe has a population of 17,2 million according to the 2022 Zimbabwe National Statistics Agency census. The rural population is around 68%, while the urban population stands at around 32%.
The voter/adult population stands at 8 052 000, that is to say this is the eligible or potential voters who can vote in a plebiscite. The total number of registered voters as of June 1, 2022 was around 5 804 000, amounting to 72% of the total adult population. This means that more than 2,3 million people are not registered to vote. This is a fertile ground for political parties to persuade and solicit for votes.
Women contribute 53,82% of total registrants, while their male counterparts occupy 46,18%. Harare province has the highest number of registered voters at 952 520 against a potential of voter registrants of 1 448 million, giving a voting percentage of 67,27%.
Matabeleland South has both the lowest population and voting population of 389 947 and 267 308, respectively, giving a voting percentage of 67%. Midlands has the highest voting percentage of 81,4%. The total percentage of voter registrants stands at 72%.
Interestingly, the rural voter percentage is a staggering 67,5% compared to 32,5% urban voter registrants. This is, however, greatly affected by rural to urban migration. The Zimbabwe Electoral Commission (Zec) has 69 administrative offices against 210 constituencies, meaning that on average three constituencies are served by one administrative office.
Voter registration challenges
As highlighted above, there are bottlenecks and limitations which militate against effective voter registration. Administratively, 69 centres are not sufficient to cater for 210 constituencies and voters who are located in constituencies where there are no voter registration centres tend to miss the opportunity to register, thus infringing on their fundamental democratic right.
The Registrar-General's Office is another important player in voter registration as it is the office tasked with issuing national identification documents which are a requirement during elections. Since 2020, the office has been facing capacity problems, thereby leaving a great number of potential voters in the cold.
In 2021, ZimRights reported that over two million youths were without national identity documents. Other challenges include ignorance and lack of knowledge on political issues.
This can be attributed to poor or no civic awareness, especially in politically-polarised communities. Just recently, Zec conducted a third voter registration blitz which cost $130 billion, loosely translating to US$13 million. In total, these blitzes have gobbled up a whopping U$45 million since 2021, according to Zec.
Mind you, a voter registration blitz is just but a miniature component of voter registration. The whole voter registration process is a very costly programme which requires a lot of resources.
Voters roll and public confidence
It is important that the public has confidence in the accuracy of the voter register. The officials must ensure that the preliminary and final voter registers are published, and the copies are available for public inspection to allow the electorate to check for inaccuracies and omissions.
Civil society organisations may also audit the voter register. Where there are strong allegations or evidence of exclusions, inconsistencies and inaccuracies in the voter register, the authorities should take constructive and transparent steps to improve the quality.
Voter registration methods
Active registration: Can be also voter-initiated registration. It requires individual registrants to apply for inclusion in the voter register.
Passive registration: Also called State-initiated or automatic registration. It requires State authorities to compile the voter register without the need for individuals to apply.
Conditions for voter registration
Citizenship
Citizenship is a condition for voting. In good democratic practices, all citizens whether by birth, decent, dual holders and those who acquired through naturalisation must be afforded the right to vote.
Minimum age
The legal age of voting does not necessarily have to coincide with the age of civil majority, but the attainment of age of majority. In Zimbabwe, the legal age of majority is 18 years and this is the voting age.
One can attain the age of civil majority and obtain a national identity card, but will still have to attain the legal age of majority to be able to qualify for voting.
Prisoners' right to vote
In many countries, Zimbabwe included, persons serving a prison sentence are deprived of their right to vote. This exclusion can be de jure, based in the domestic legislation, but can be de facto, resulting from the absence of a specific procedure permitting people in detention to vote. International human rights bodies have, however, condemned the deprivation of the right to vote to anyone sentenced to a prison term.
Voter education and awareness
Voter information and education activities are necessary to ensure that all eligible citizens are aware of their rights and understand how to exercise them.
They range from broad issues on governance and political party programmes (civic education) to inform citizens where, when and how they can actually vote (voter information). A lack of information for example on where to vote, with which ID documents, how to mark a ballot validly, etc can result in voters being unable to exercise their rights.
Responsibility for impartial voter education lies with State electoral management boards (EMBs), frequently in conjunction with civil society and the media.
Voters should also be aware of the significance of elections, the type of election taking place, the identities of candidates and political parties and the way in which their choices should be indicated on the ballot.
EMBs have a responsibility to ensure this information is provided without discrimination ahead of election day and make adequate information available in polling stations on election day.
Missed opportunities
Voter registration, according to law, is a continuous exercise which only closes a few days after the proclamation of the next election date by the Head of State. Political parties had more than 230 weeks from the last election of July 31, 2018 to register first-time voters.
This is more telling if one is to do simple math to ascertain the potential number of registered voters if political parties had actually employed serious voter registration mechanisms and strategies.
Just to give you some context, from September 1, 2018 to date there are 236 weeks and if all political parties from 210 constituencies had managed to register just 50 first-time voters every week, the figure would be a whopping 2 478 000 new potential voters.
If we break it down to 1 958 wards, it only requires five registrants every week to obtain an accumulative 2 300 000 voters.
At constituency level, the figure will be around 12 000 voters and checking with the latest figures, no constituency has ever managed even a quarter of that figure.
Catering for only five people at ward level requires between US$20 and US$50 depending on the vicinity of the constituency to the voter registration centre.
This will advantage political parties that directly assist registrants as this builds a relationship and also enables political parties to make correct projections and gauge their strengths and weaknesses. Being in constant touch with the electorate also fights the scourge of voter apathy.
Meanwhile, civil society as a very important stakeholder in elections must also complement Zec in voter mobilisation. Of late, we have noticed a decline in civic activities owing to funding constraints and government censure.
The relationship between civil society and government has reached catastrophic levels and the introduction of the Private Voluntary Organisations Bill which now awaits the signature of the President to become law is the final straw that broke the camel's back.
Recommendations
As highlighted above, the voter-initiated registration model we are currently using has enormous bottlenecks that have affected citizens' (mostly youths) participation in elections. In light of these challenges, I propose that:
We abolish the active registration or the voter-initiated method and adopt the passive registration model or automatic registration. In other words, the civil registration processes must be synchronised.
That is to say when one applies or is issued with a national identification card, they automatically become a registered voter.
This will ensure active participation of all citizens in electoral processes. It will also reduce government expenditure in voter registration programmes and, by and large, fight the scourge of voter apathy.
Voter registration centres must be decentralised to constituency level so that registration is easily accessible.
The current Zec administrative offices must be increased to 210, so that every constituency has a voter registration centre. This is, however, expensive thus adopting the passive registration is the most ideal model.
Conclusion
Political parties must employ robust voter registration strategies to lure as many supporters to enhance their chances of winning. The current voter registration statistics point to a gloomy election which can lead to voter apathy.
Proper structures for voter mobilisation and registration steeped in grassroots and organic campaign models complemented by sufficient funding is the panacea to effective mobilisation and registration of voters.
Fatigue and lack of interest especially among young voters is mainly as a result of a breakdown of the social contract between political organisation and the electorate.
Elected office bearers must also represent their communities with distinction and probity.
Related Topics