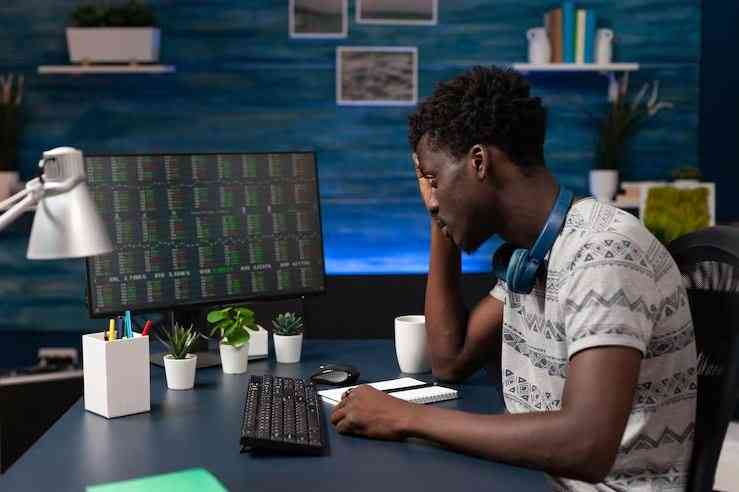 The bulk of people who have never traded binary options don't even know where to begin and therefore avoid the industry altogether. This is the case, of course, if you make these bets without enough knowledge and resources. If done properly, binary trading can yield significant profits. As opposed to forex, it is considerably easier and takes less time to learn.
You can earn or lose a lot of money quickly with this strategy. Finding a reliable broker should be at the top of your list of priorities, so read before trading on Pocket Option and other platforms.
Steps to Trade Binary Options
Learn About Binary Options
Traders who assume they can just hop into the market are often surprised to find out that the industry is more complex than it appears at first glance. Although it may appear simple to purchase a call or put binary option, there are really many distinct forms of options, and you should familiarize yourself with each type before making any trades. Studying the topic or enrolling in a course are also good possibilities.
If you want to trade binary option contracts, you need to know everything there is to know about them and how they work. If you aren't careful, you might lose a lot of money by missing an expiration or trigger, trading the wrong sort of option, failing to sell back at the right time, or failing to grasp the level of risk you are incurring.
Get an Internet-Capable Device
To start trading binary options, you will need an online trading platform and a fairly new phone or computer that can connect to the internet. If you need to get out of a deal quickly, it could cost you a lot of money if your internet connection suddenly goes down.
Choose a Trustworthy Binary Options Broker Online
You might not be able to trade binary options with your current online broker because some brokers only deal in binary options, and some may not accept clients from your country.
Choose a broker with a good reputation who offers binary options on the assets you want to trade. Make sure they provide a reliable trading platform at reasonable prices. To trade binary options with a particular broker, you may need to meet certain requirements set forth by that broker.
Create a Trading Account for Binary Options and Fund It
Determine which type of account is ideal for your starting capital and trading needs. If you wish to buy a binary option, you should make sure you have enough money in your broker's account to pay for the premium.
Determine a Trading Asset
Numerous underlying assets are available for trading in binary options. Brokers might differ greatly in the types and numbers of assets they offer. While browsing a broker's website, you might expect to see a list of the most traded assets. Trading in currency pairs, commodities, stocks, and stock indexes are all examples of liquid, mainstream markets.
Choose the Time of Exit
The time of closure, also called the expiry time, is when both parties agree that the contract is done. In the beginning, the binary market only allowed for brief time frames before expiration. But as the industry has grown, it has become possible to have many different expiration dates, some of which are as long as a year. There are typically three types of closures: emergency, routine, and extended.
Calculating the Scale of Your Trade
The first step in buying or selling a lot is deciding what kind of lot you want. The amount or percentage you are willing to risk is an important consideration. Expert traders know the hazards and only risk 1% to 2% of their capital.
Launch a Real-Time Trade
Once a favorable market condition arises, you can begin trading; nevertheless, you should never risk more than you can afford to lose. If you want to increase your chances of making money playing binary options, one of your goals should be to create a winning trading strategy.
Top Binary Trading Platforms
Choosing a reliable online broker to conduct your trades with is a crucial step in getting your trading operation up and running. Check the broker's platform, transaction fees, and pricing structure to see if they are reputable and if they can meet your needs.
Think about your preferred trading approach, how much training you'll need, and whether you'll need specialized software in order to make money trading binaries. Certain prudent brokers may inquire as to your level of experience before allowing you to trade binary options or any other options. Furthermore, they may restrict your ability to engage in trading.
In the United States, you can buy listed binary options on the North American Derivatives Exchange (Nadex) and the Chicago Board Options Exchange (CBOE). The market sets the prices, and the Commodity Futures Trading Commission (CTFC) keeps an eye on everything. Some overseas brokers and banks that offer over-the-counter or online binary options trading don't have to follow any rules, so there is a chance of fraud and off-market pricing.
Always do your research to choose the best broker for your needs, and stay away from any that aren't regulated to reduce the risk of falling victim to a scam or unfair pricing practices.
Conclusion
We hope this article serves as a springboard for your trading adventures. Because it is based just on price and time, trading in binary options is incredibly straightforward. To accurately predict market outcomes, you need reliable methods for analyzing current market conditions.
Related Topics