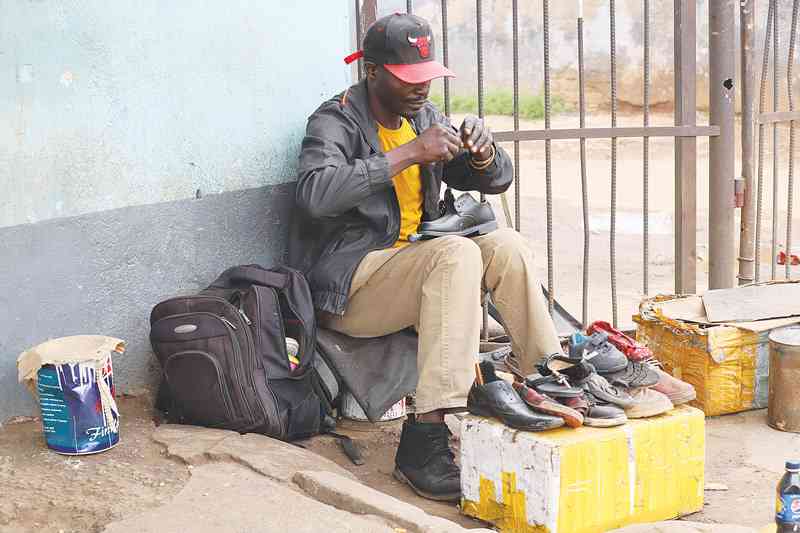 COBBLER, cobbler, mend my shoe. Get it done by half past two. Stitch it up and stitch it down. And I'll give you half a crown!
The popular nursery rhyme has real meaning for 49-year-old Paul Sabao.
After hustling for most of his life, he turned to a forgotten art to make a living in 2019. He has not turned back.
How it all started
I started doing shoe repair in Harare central business district in 2019. It has been over three years now and I have managed to work with a lot of people who face unexpected problems with their shoes from time to time.
I was inspired to venture into shoe repairing by someone whom we used to stay with as a co-tenant in Chinhoyi back then in 1990 when I was only 15 years.
This guy used to work at Bata Shoe Company. He quit his job and started doing shoe repairs and making some shoes at home.
He taught me the craft. I ended up being good at it not knowing that one day it would be my source of income.
Relocating to Harare
I was born and bred in Chinhoyi, but we relocated to Harare after my father got retrenched from his job at a mining company.
We came to the capital in search of greener pastures, but at that time, the economy had started to tank.
I had finished school, but finding a job was hard and I did not want to go back to the rural areas, so I started doing some piece jobs.
I would do any temporary jobs that I could get. I managed to start a family, but later on, I moved to Mozambique to work at the fish camps.
Since I had left my family here, I decided to come back and start again hustling in the streets as a cobbler because that was one of the skills I knew I was good at.
Choosing to be a cobbler in the CBD
I chose to start my small business here in town because in the (high-density suburbs, people) are always asking for lower prices.
Also, some would want free services because we are neighbours. Therefore, I reckoned that by working in the CBD, I would avoid all that unnecessary stuff which is bad for business.
In have met a lot of people in my job.
Some come to me under a lot of pressure and frustrated from shoe problems.
I operate like any other normal business. I start at 6am and finish at 6pm.
Adhering to this timetable helps me attract regular customers and also that is the time when my potential clients might need my services.
Motivation
There is nothing much about my work that motivates me to come to work every day than knowing that I need the money.
This is my line of income that my family depends on.
If I fail to show up for work, my family will starve. As a father, I am, therefore, obligated to show up for work every day so that my family feeds, gets proper clothing, and goes to school.
Clients
Most of my regular clients are people who work or operate in town and spend most of their time here in the city like shop assistants, commuter omnibus operators, and vendors.
So, they usually come and drop off their shoes on their way to work and collect them after work.
Female customers are usually here to get their shoes fixed, handbags fixed, and revive the colour of their tan boots and the quality of their suede shoes.
Livelihoods
To ensure that I do tangible things with the money that I get from my business, I have joined mukando (societal savings club).
We are a group of eight people and we contribute US$10 each every week towards the revolving fund.
Surviving city council raids
When it comes to arrests and raids from the Harare City Council officials, I can happily say I am safe. This is because I only do repairs and fixing and not selling.
It becomes hard for the law enforcement agents to confiscate the stuff I have here because the shoes I will be repairing belong to different people who are my customers. So, they do not care about me, unlike vendors.
Challenges as a street cobbler
One of the challenges I face as a person who operates in the streets at an open place is failing to operate due to rainfall on some days.
Rainfall prohibits my potential clients from coming to get their shoes fixed.
Also, the delay in the collection of the garbage dumped along the road is a challenge.
Working at this place is hazardous due to the unpleasant smell coming from the rubbish that is dumped along the road.
Since the council is responsible for proper disposal of the rubbish at the designated places, it is my wish that they carry out their duty daily so that the waste does not pile up in front of the road near where I operate from.
Worries
Judging by how my life has slowly turned out over the years since I started, I can say this job has sustained me and my family.
However, the money I get here does not go beyond saving or investing to buy a residential stand or car.
This is because it's a hand-to-mouth type of business venture. Therefore, I do not see myself being able to save for a car or residential stand one day from street shoe repair.
Wishes
I wish that one day, somebody; maybe a well-wisher will notice me and give me a proper job in line with what I do because I have the skill and talent.
If the opportunity arises, I would like to get donations or sponsorship to buy equipment that I can use to grow my business professionally. I am also skilled to make and design shoes from scratch, so having a bigger business is something I pray and wish for.
Related Topics