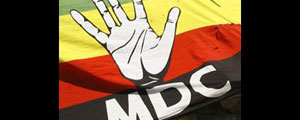 In the aftermath of the MDC-T defeat in the July 31 harmonised elections by Zanu PF, a war has literally broken out within the outgoing Prime Minister Morgan Tsvangirai's party over mayoral positions throughout the country.
NewsDay Editorial
Party members — some former Cabinet ministers — have openly expressed interest in the position that has somehow become a consolation prize for politicians who cannot stomach existing without the comforts that come with occupying political office.
It turns out that the mayoral position is probably the only significant position of authority that the MDC-T can hold onto given the reality that it is highly unlikely President Robert Mugabe and his Zanu PF, who won more than two-thirds majority in the House of Assembly, will extend an offer of Cabinet positions to MDC-T party members.
Councillors last week pleaded with party leader Tsvangirai to block all the party bigwigs who were positioning themselves for mayoral positions throughout the country.
Several senior MDC-T officials, among them spokesperson Douglas Mwonzora, outgoing Energy minister Elton Mangoma and party provincial spokesperson for Harare Obert Gutu, have expressed interest.
Their argument being that the position will be equivalent to that of Governor of the Harare Metropolitan province hence needing someone with political muscle.
Outgoing Harare mayor Muchadeyi Masunda is also interested in the post.
Former Speaker of Parliament Lovemore Moyo has been linked with the mayoral post in Bulawayo, while in Mutare outgoing Housing and Social Amenities minister Giles Mutsekwa has also expressed interest. In Chitungwiza, former Housing minister Fidelis Mhashu is believed to be eyeing the post.
We find the scramble to occupy the position of mayor sickening, especially from a party that claims to be pro-democracy. It goes to show that after all, all politicians are the same — they put their personal interests first.
If anything politicians want to line their pockets for as long as possible.
The jostling in the MDC-T has shown us that this has got nothing to do with wanting to represent the people, but represents the desire to cling onto power.
We can't agree more with councillors who have been elected that the ongoing jostling is an indication of greed at its best.
Tsvangirai should ensure he does not reward failures in the interest of pleasing just a few individuals.
It will be unfortunate if the MDC-T allows its bigwigs to trample upon the rights of the people that were elected.
Those that lost should carryout an introspection of what they did wrong and move on with their lives.
This jostling will only portray them in bad light as people who are power hungry.
What Zimbabwe needs at the moment are politicians who have the interest of the people at heart. Politicians who can stomach their setback and move on.