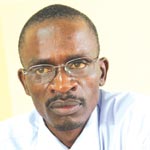 If politicians are to be believed, migration caused by climate change will cause the world huge problems.
Viewpoint by Wisdom Mdzungairi
One of the latest to repeat the warning is a British politician, who, like many others before him, said 200 million people might be forced to flee their country.
But how reliable was this figure?
The politician warned that millions of people around the world could be forced to leave their homes over the next few decades and move to countries less affected by environmental problems.
"If we get climate change wrong, there is a very real danger we shall see levels of mass migration as yet unparalleled," the politician said.
"The United Nations estimates that in 2008, 20 million people were displaced by climate change."
In the longer term, one can imagine that the UN estimates of 200 million such refugees, more than the total number of worldwide migrants today, might be about right, according to politicians.
Perhaps nobody for now can comment in any way on the accuracy of a figure they did not produce, but the bottom line is that there is real need for the country's National Climate Change Policy we have been promised for almost a decade. Efforts to come up with a comprehensive document were stepped up in the two years, but still it appears as though it still uncoordinated.
Isn't in recent years that the population shifts have been witnessed in the country towards urban areas as opposed to urban-rural migration? Even though it would be inaccurate to say the British politician "warned that climate change will create 200 million migrants", it would be accurate to say that he argued that authorities have to tackle the push factors that affect migration such as climate change as otherwise the numbers who are made environmental refugees may reach the estimate of 200 million.
This comes as global damage from flooding among others could cost major cities as much as $1 trillion per year globally — with developing countries being the hardest hit.
We think of Zimbabwe's low-lying areas of the Zambezi Valley, Muzarabani, Beitbridge and Chipinge among others, which are prone to floods every rainy season.
This calls for a risk-sensitive planning strategy to protect such areas, which are increasingly at risk because of climate change, subsidence and a growing population.
It is a fact that developing countries are particularly vulnerable to flood losses as they often lack resources for long-term planning. No city is doomed, but we have to expect huge disasters in the future as a result of climate change effects if national climate change strategy in the form of a policy is not concluded in time.
It is appears that some stakeholders do not seem to understand the endangered environment within which we are living in. Yet, better national and international coordination to provide support for the affected areas is really important.
Zimbabwe should not observe the risk increasing in real life until a disaster actually occurs, which is why it is important to analyse and reduce the risk in advance.
The country is a signatory to almost all protocols on the environment and climate change. The previous Cabinet had a full Ministry of the Environment and Natural Resources, which demonstrated the willingness to deal with all issues environment, but it is the reluctance or slow pace at which the climate change discourse is taking that has delayed the enactment of a climate change policy which would define how all government arms should work together to preserve the environment.
I do not think that climate change reports about the deteriorating climate situation in the country and elsewhere are simply repeat material without any harm, but if we get climate change wrong there is very real danger we shall see levels of mass migration as yet unparalleled.
Zimbabwe badly needs to adapt — which could cost several thousands of dollars if not millions of course, and to prepare for disasters by, for example, strengthening early warning systems and comprehensive insurance schemes for post-disaster recovery.
Adaptation may be a difficult challenge for us because of our environmental, social and economic conditions.
Poverty is a crucial factor that makes us particularly vulnerable to flood losses. What with almost 2,2 million facing hunger this year.
When Cabinet is finally announced and ministries or local authorities show different levels of vulnerability, local administrators can encourage development in safer neighbourhoods.