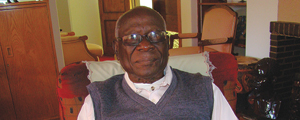 THE family of the late Zanu PF founder Enos Nkala yesterday said it was making alternative burial arrangements while awaiting the government's decision on his hero status.
REPORT BY SENIOR REPORTER
Nkala died on Wednesday at Avenues Clinic in Harare after succumbing to a kidney condition and heart attack at the age of 81.
"At this stage, we are still waiting to hear from government because obviously, he is a national hero and they are considering conferring him with that status," said family spokesperson Herbert Nkala.
"We are, however, also making alternative arrangements to have him laid at an appropriate place depending on what statement we will get from government."
Nkala said the family was not expecting to get a final decision yesterday as the nation was seized with President Robert Mugabe's inauguration at the National Sports Stadium.
Mugabe on Thursday described Nkala as a "great, staunch, unyielding and dependable liberation war fighter" while giving strong indications he would be conferred with national hero status.
"We will be discussing what to do with him. I am sure he will be buried at the National Heroes Acre. If a person like him is not buried there, then no one else qualifies. We want to see him well buried, well honoured," said Mugabe.
The late Nkala is, however, on record as saying he did not wish to be buried at the national shrine.
"I don't want my body to be carried and put into that place. I don't like it personally from my point of view," Nkala was quoted as having said.