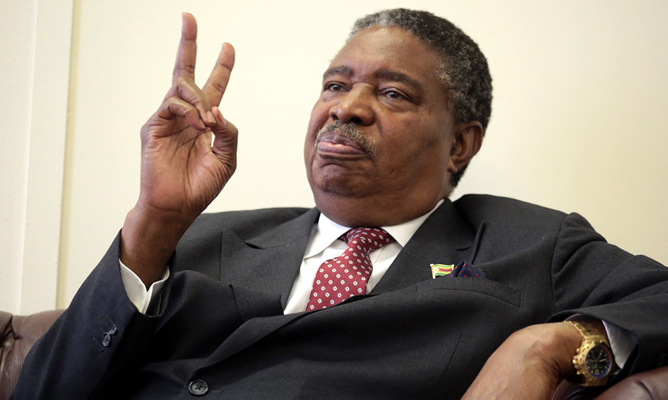 HARARE — Vice-President Phelekezela Mphoko, who has been staying at Harare's Rainbow Towers Hotel, was on Tuesday asked to vacate the presidential suite to make way for visiting Chinese President Xi Jinping.
NewZimbabwe.com
The Chinese leader jetted into Zimbabwe on Tuesday morning for a two-day State visit and left yesterday for South Africa.
Mphoko has been staying at the hotel with his family for almost a year at the expense of the State, defying calls from residents, human rights activists and opposition leaders to vacate the facility.
The VP took up residence at the hotel after he was appointed one of President Robert Mugabe's two deputies last year.
A source at the hotel said Mphoko was "downgraded" to the diplomatic suite on Tuesday. "Hotel staff packed his belongings in the morning and repacked them in the diplomatic suite early this [Tuesday] morning.
"Around 8am, Chinese security details and staff took over the presidential suite to prepare for their leader."
The Chinese President arrived at the hotel around 12 noon.
On Monday, five activists were arrested at the hotel for staging a protest against Mphoko's continued stay there.
His wife, Laurinda, reportedly rejected three properties offered by the State in Harare, arguing they were not suitable for a public official of her husband's stature.
Meanwhile, the activists have been freed. They were freed without even setting foot in court after spending two nights in Harare Central Police Station's "dirty" cells.
The five are Tendai Tendayi, Lynnette Mudehwe, Irvin Takavada, Elvis Mugari, Tonderai Chigumbu and Dirk Frey of the "Occupy Africa Unity Square" campaign led by journalist-cum-human rights activist Itai Dzamara, whose whereabouts are still unknown since his abduction on March 9 this year.
They had been arrested for criminal nuisance under Section 46 of the Criminal Law (Codification and Reform) Act.