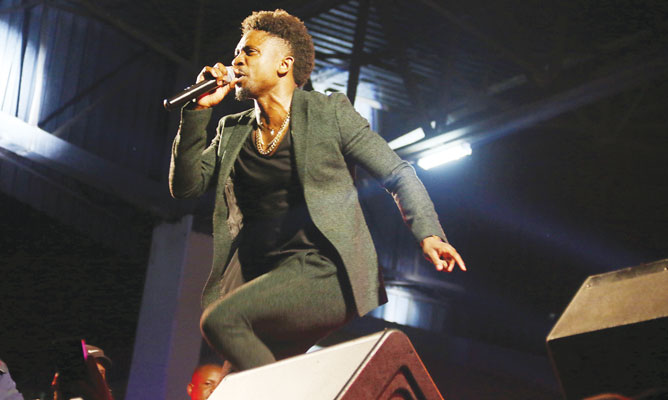 JAMAICAN reggae star Christopher Martin, who staged his maiden Zimbabwean show dubbed Together-As-One Live Concert on Friday night at Glamis Arena, said he was happy that he had fulfilled his mother's call that he must leave a long-lasting impression wherever he performed.
BY WINSTONE ANTONIO
In an exclusive interview with NewsDay before his departure yesterday, Martin said he knew that Zimbabwean fans would not accept mediocrity.
"Zimbabwe showed me love on different media platforms like Twitter, Facebook and Instagram before I came here, so at the show it was payback time to them. When we are on the stage we know music is our life and we do not do half-baked performances," he said.
"My mother always says when you go to a place for the first time, leave lasting impressions and I am happy that is what exactly we did with my band."
Martin, backed by his live band, performed after local dancehall star Winky D, who had electrified the atmosphere, but the Jamaican shrugged off pressure of the Disappear hitmaker's penchant of outclassing main foreign acts in previous concerts.
With a captivating performance complemented by well-choreographed dance routines, Martin left the fans calling for more.
During his three-and-a-half hour act Martin's playlist composed of both old and new songs that had fans singing along.
He also had an appreciation of his fellow Jamaican musicians among them Jah Cure and Busy Signal as he played cover versions of some of their songs.
Martin blended well with his fans who warmed up to him during breaks by using Shona phrases such as "Tatenda/Maita basa" (Thank you) and Makadini? (How are you?).
The Jamaican singer had fans laughing when he said he had a friend called Tinashe and was contemplating adding Shona names to his real name to become Christopher Tinashe Tatenda Martin.
Martin's protégé D-Major was also a marvel to watch when he performed.
He said he was surprised that his music was popular in Zimbabwe as people sang along during his 30-minute solo performance.
Martin's manager, King Lettman, saluted Zimbabweans for coming in their numbers describing the concert as one of their best in many years.
"It was a wonderful tour and let alone performing for such a crowd. I am happy that my artistes delivered for the promoter and their fans. We are looking forward to come back for another show in near future," he said.
The Cheaters Prayer hit-maker urged upcoming Zimbabwean artistes to be patient in their careers saying rising to stardom was not an overnight event.
"This music industry takes determination and as an artiste you must not give up easily, but to be strong and face the challenges," he said.
He saluted local artistes Winky D, Ninja Lipsy and Jah Prayzah, whom he shared the stage with, describing them as talented artistes.
Concert organiser Barbra Chikosi was pleased with Martin's energetic performance and saluted local music fans for turning out in their thousands for the concert.
"It is every promoter's desire to be pleased with artistes' performances especially from foreign countries, headlining acts who are sometimes outperformed by local artistes. Chris Martin's performance was amazing and he delivered what he promised his fans just the same as our local acts who also proved their talent on the stage," she said.
She, however, admitted they could have done better for fans in the VVIP and VIP enclosure who did not have a good view of the artiste on stage.
"In music promotion you learn one or two things from each show, and from this show we have recognised something that will improve when setting up the VIP and VVIP enclosures for our future concert," she said.
Chikosi has in the past brought into the country top Jamaican acts among them Capleton and Turbulence.