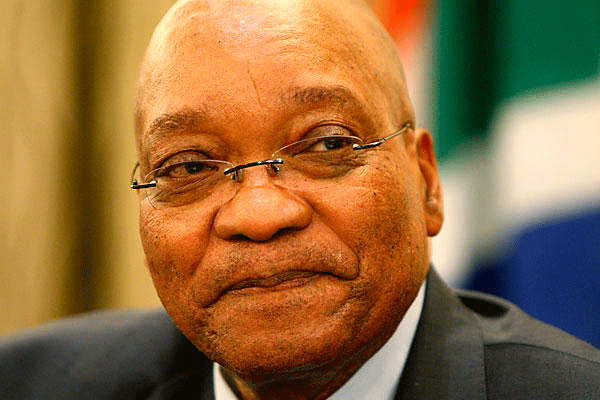 As head of intelligence for the outlawed African National Congress during apartheid, Jacob Zuma neutralized perceived traitors and sidelined opponents to shore up his position, people who worked with him say.
Reuters
Decades later, as South Africa's President, he hasn't lost his touch.
Lampooned in the media, jeered in public and now facing calls from inside and outside the ANC to resign over millions of rand of improper state spending on his private home in Nkandla, the 73-year-old's grip on power seems like it should be weaker than at any point since his election in 2009.
Yet he endures, thanks to skills honed decades ago in the exiled ANC underground, promoting little-known officials who do his bidding to powerful positions within the security and intelligence portfolios, politicians who work around Zuma say.
He has also changed the way the party votes on internal appointments, including making members photograph ballot papers to prove their allegiance.
Critics, including former cabinet ministers and top commanders of the ANC's armed wing, Umkhonto we Sizwe (MK), say Zuma's administration also demotes opponents and intimidates dissenters. One example: Public Protector Thuli Madonsela, a constitutionally mandated anti-corruption watchdog investigating the spending on Zuma's home, became the subject of an intelligence ministry probe into allegations she was a CIA spy.
Zuma's spokesman Bongani Majola did not respond to multiple requests for comment on this article or for an interview with Zuma. ANC spokesman Zizi Kodwa also did not respond.
Intelligence Ministry spokesman Brian Dube denied that security institutions were being misused. "These allegations are not new. They have been made before and remain unsubstantiated," he told Reuters in answer to emailed questions.
One senior ANC source, who did not wish to be named for fear of retribution, said the key to Zuma's power was his lock over the party, regardless of his standing among the public.
"So-called experts have been saying Zuma is finished for years but they don't have a clue how politics here works," said the ANC official. "People ask, how does Zuma survive? No one asks, how does Vladimir Putin survive?" "THE GRINDSTONE"
Zuma, whose Zulu middle name, Gedleyihlekisa, means "the one who smiles as he hurts you", joined the ANC in 1959. The son of a policeman and domestic worker from what is now rural KwaZulu Natal, he had little formal education.
After 10 years on Robben Island alongside Nelson Mandela, he fled apartheid South Africa to emerge in the late 1980s in the Zambian capital, Lusaka, as deputy head of the ANC's secret police and head of the 'Green House', its intelligence unit.
One of his main tasks was to unmask informants and traitors within the ANC and MK, wielding the resources of the ANC secret police, known as iMbokodo or "The Grindstone".
The Stuart Commission, an internal ANC inquiry into unrest in 1983 in guerrilla camps in Angola, described iMbokodo as "the most notorious and infamous department in the camps and perhaps in the whole movement".
The report, available on the ANC's website, painted a picture of the ANC security services as a state-within-a-state, feeding off rumor and "not working for the security of the general membership and interests of the movement".
According to historian Stephen Ellis in his 2012 book, "External Mission: The ANC in Exile 1960-1990", Zuma's time in Lusaka shaped the rest of his life.
"For the remainder of his political career, this experience in charge of intelligence was to be Zuma's key institutional base," Ellis wrote.
Ronnie Kasrils, intelligence minister between 2004 and 2008 under Mbeki and an anti-apartheid veteran, spent years in the ANC underground and intelligence circles alongside Zuma.
"The first people he appointed were in his security team," said Kasrils, who has publicly called for Zuma to resign.
"It was vital that Zuma had the heads of intelligence to do his bidding. It gives you the ability to dig up dirt on politicians and keep a close eye on opponents," he said.
One such appointment was David Mahlobo, an unknown provincial hydrologist with no security experience, as intelligence minister in 2014.
The ministry had traditionally been assigned to ANC high-fliers with impeccable "struggle credentials" such as Kasrils or Lindiwe Sisulu, the forthright daughter of ANC stalwart and close Mandela friend Walter Sisulu.
"Mahlobo was a likeable guy but a surprise appointment," Kasrils said. "Zuma wanted someone young and green who is dependent and won't question him."
Another was Nkosinathi Nhleko, a fellow Zulu whom Zuma appointed police minister in 2014.
When Madonsela, the Public Protector, published a damning report on renovations Zuma had made with public money to his Nkandla home, including the building of a swimming pool, Zuma asked Nhleko to open an inquiry. Nhleko said the pool was a fire-fighting resource, backing up his conclusion with a video of firemen using the pool to pump jets of water. THE RIGHT PEOPLE IN PLACE
Another appointment that startled observers was the selection last year of small-town mayor David van Rooyen as finance minister, a promotion that sent the rand into a tail-spin and resulted four days later in his dismissal.
In total 35 ministers and 38 deputy ministers have been appointed during Zuma's term of office, far more than any other South African leader since apartheid.
At the same time, senior ANC figures have been moved out of the party's top decision-making body, the National Executive Committee (NEC).
"A major problem is the 'juniorisation' of appointments to ensure compliance and loyalty," Siphiwe Nyanda, a top MK commander and communications minister fired by Zuma in 2010, told Reuters.
Zuma has also changed the way members are elected to the NEC'S 'Top Six', a body that ultimately chooses the party president.
Under a so-called "slate" voting system, trusted delegates to the 5,000-member ANC conference held every five years are told who they should vote for and are expected to confirm they have obeyed with a photo of their ballot, two ANC sources said.
"With 'slate' voting we no longer have proper democracy in the party. They have become voting cattle," Nyanda said. An ANC spokeswoman declined to comment on the issue.
Dissenting voices in parliament or cabinet stay silent as a result. On April 5, ANC members of parliament, who control almost two-thirds of the assembly, voted unanimously against a move to impeach Zuma following a constitutional court ruling against him over the Nkandla affair.
Asked by Reuters why he had voted as he did, a senior member of government known to be anti-Zuma merely rolled his eyes. The politician asked not to be named for fear of recriminations.
UNDERHANDED TACTICS
Bugging telephones and intercepting emails of senior party figures and journalists has become routine, Kasrils said.
He did not provide details. But in 2009, 783 corruption charges against Zuma were dropped after his legal team came up with phone intercepts — dubbed the 'Zuma spy tapes' — that suggested a political motive when the charges were laid.
How Zuma, who was then challenging Thabo Mbeki for the leadership of the ANC, obtained the wire-taps has never been revealed. The Pretoria High Court on April 29 ordered a review of the decision to drop the charges.
Critics also complain about intimidation tactics and smear campaigns.
A week after the Helen Suzman Foundation (HSF) filed court papers against Berning Ntlemenza, head of the police's elite Hawks investigations unit, the NGO's offices were robbed.
HSF executive director Francis Antonie said the robbers took only old computers. "It's plausible this was an information gathering exercise or meant to intimidate us," he said.
Provincial police spokeswoman Noxolo Kweza said she could not answer questions about the case because it had been "taken from us" by the Hawks, which the Hawks, South Africa's version of the FBI, denied.
Some Zuma opponents have found themselves the target of campaigns linking them to the U.S. government, a charge that points to the Cold War paranoia that lingers in parts of the ANC, which was backed by the Soviets.
Among these was Madonsela, the author of the Nkandla report, who afterward became the subject of an investigation, ordered by Mahlobo, into allegations she was a CIA agent.
The results of Mahlobo's probe have not yet been released.