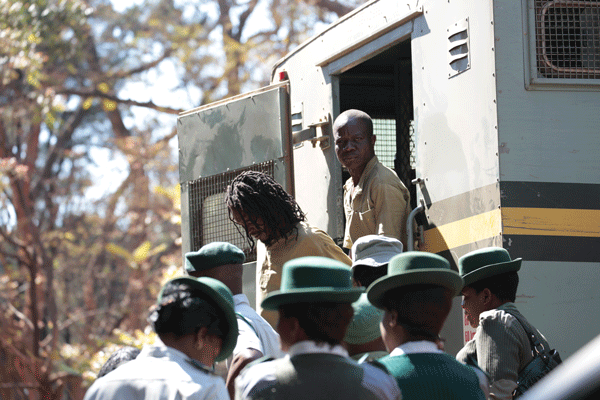 THE Prosecutor-General (PG)'s Office has refuted claims that the 68 suspected protesters arrested and charged over public violence, were starving in remand prison, where they await their bail ruling.
BY MARY TARUVINGA
State prosecutor, Michael Reza yesterday denied the allegations, claiming the suspects were "too choosy" instead. Reza made the remarks while responding to a question on what the State had done to resolve the food issue following the collapsing of a woman, from suspected hunger, during the groups' appearance in court on Tuesday.
Reza said the suspects requested for Nando's food, which the prisons officials say they cannot afford.
"The suspects are given food in the morning before they come to court and food for lunch is also brought from the prison, but I'm advised that some of the persons refused to eat, preferring certain stuff," he said.
Presiding magistrate, Tendai Mahwe then asked Reza what he meant by certain stuff, to which he responded he meant Nando's.
The lengthy bail hearing entered its fourth day, with Harrison Nkomo, the lawyer representing a freelance photo journalist, James Jemwa, grilling the investigating officer, Raphel Chakama, who seemed clueless on the circumstances leading to the scribe's arrest together with his co-accused.
Chakama said there were about 70 witnesses to testify against the accused persons, but could not provide the list to the court. Under cross-examination, Chakama said he needed eight weeks to bring the list of witnesses and in the meantime, the journalist would be languishing in custody.
The investigating officer also said he could not facilitate Jemwa's release, although he was arrested while carrying out his duties and was not part of the protesters on the day in question. Trust Maanda, who is representing the other suspects, together with other human rights lawyers, then queried why Chakama was the investigating officer in a matter whose events he did not witness.
Chakama kept on saying he was not aware of what happened on the day in question, as he was not around.
The 68 suspects are accused of burning a police vehicle and a ZBC truck during last week's My Zimbabwe campaign launch demonstrations.
The application continues today.