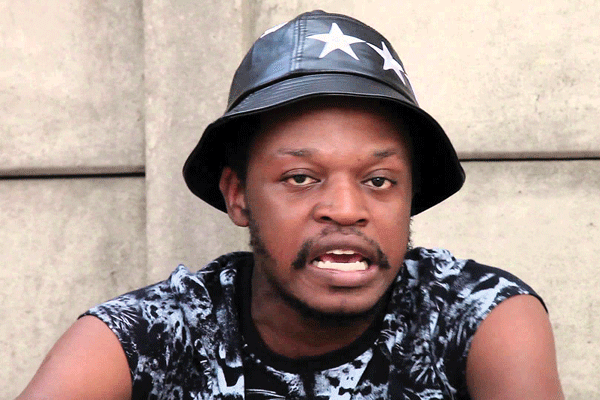 ZIMDANCEHALL artiste, Seh Calaz, was "canned" off the stage by fans on Saturday night at Harare Gardens, bringing the Judgment Yard fourth anniversary to a premature end.
BY TAURAI MANGUDHLA
The Mbare-bred chanter, who is popular for "dissing" Winky D, made his entrance on stage with his latest track, Godo, which is largely seen as another "diss" targeted at the Ninja President.
In the track, Seh Calaz's lyrics imply that his enemies will feel a lot of pain if they die before him and he particularly refers to an artiste who has a habit of releasing songs at the end of year.
Some Zimdanceball fans have interpreted this as an attack on Winky D, who became the man of the year in Zimdancehall after releasing his Gafa Life Kickstape album, which featured the hit song Disappear, in October last year.
Last month, Winky D released his Gafa Futi track, causing a stir in Zimdancehall circles, after which Seh Calaz also released the track Godo.
This appeared to have angered fans who threw missiles on stage as soon as Seh Calaz appeared singing Godo, while accompanied by dancers clad in Nyau regalia.
Seh Calaz attempted to calm down the fans by declaring that he could not be stopped by the cans, but this attracted more missiles, forcing him to leave the stage after hurling obscenities at the fans.
His loyal fans in the VIP area stopped him from leaving the venue before he tried a second entrance, this time with his entourage and loyal fans, but, again, he was canned off the stage.
His parting shot was declaring war against every Zimdancehall artiste.
"I have declared war! No one will sing here. This gig is overpaid," Seh Calaz said as he left the stage.
Fans then started chanting, "Chibaba, Chibaba," calling for Soul Jah Love on stage.
The chaos also affected Dobba Don. He was also "canned" off the stage, as he attempted his act after Seh Calaz.
Seh Calaz's arch-rival, Magikal, braved a few cans to put up a splendid performance before host, King Alfred, escorted the Highfield-based chanter off stage after a round of applause from his fans
Fans were, however, wowed by Winky D's top class performance as he churned out Panorwadza Moyo.
Upcoming artistes Blot and Silent Killer did not disappoint and were called back on stage by fans as they performed the hits from the Stage Riddim.
Tocky Vibes kept fans on their feet, singing along to a blend of old and new hits.
His performance was exhilarating such that fans called him back on stage to perform his track Mainini.