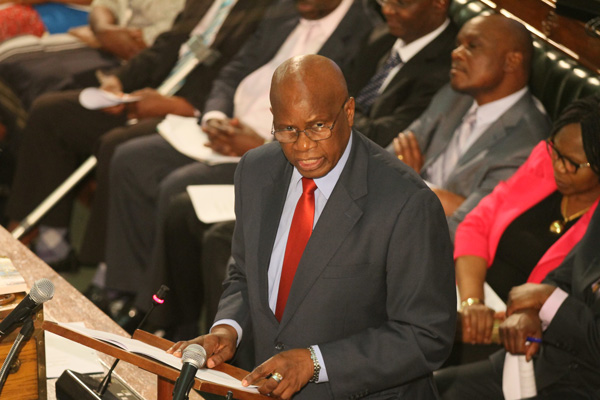 GOVERNMENT will delay effecting the deduction of a 5% levy on all airtime purchases, as it is currently working on coming up with a policy and guidelines to ensure accountability and transparency, Parliament heard yesterday.
BY VENERANDA LANGA
The issue was revealed by acting Health and Child Care ministry permanent secretary, Robert Madyiradima, when he appeared before the Parliamentary Portfolio Committee on Health to give oral evidence on the 2017 National Budget allocation of $281 million to the ministry.
"The health levy of 5% per every dollar of airtime targets purchase of medical commodities, and the Finance ministry has informed us that it is not yet taking off, as they are still working on the modalities of collection and policy guidelines. It will only take off when Treasury has worked out the policy," he said.
"The Health ministry is ready to administer the fund, but Treasury is still crafting a policy instrument to look at issues of how to collect the money, and whether airtime users should share the costs with network providers and issues like that."
Madyiradima said the money collected for the Health Levy Fund would be ring-fenced and audited to ensure it is not abused.
Finance minister Patrick Chinamasa, in his 2017 National Budget statement, proposed to introduce a levy of 5 cents for every dollar of airtime on mobile data, under the theme Talk, Surf and Save a Life, to go towards procurement of drugs and equipment with effect from January 2019.
Madyiradima also told the committee that of the $281m allocated to the Health ministry, salaries would gobble $223m, leaving only $50m for operational costs.
From the remaining $50m, $41m would be allocated to paying creditors, as the ministry was in debt, which would only leave $9m for operational costs like hospital infrastructure and others in the ministry.
"What it means is that if there is an outbreak of diseases like typhoid and cholera, the ministry has no funds to combat them because we are only left with a $9m operational budget for 2017," Madyiradima said.
Zimbabwe is currently struggling with a typhoid outbreak in Harare that has already claimed two lives. The allocation to health constitutes about 6,88% of the total budget, and is way off the 15% allocation to health stipulated by the Abuja Declaration, raising concerns among stakeholders.