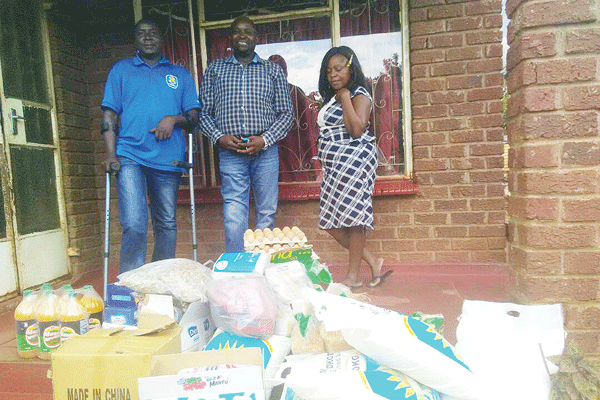 AILING top sungura musician Tedious Matsito on Saturday was a jovial man after receiving a lifeline, when award-winning promoter Daniel Masaiti donated groceries worth hundreds of dollars.
BY JAIROS SAUNYAMA
Matsito suffered a stroke in December last year while touring South Africa and this resulted in the Nyaradzo hitmaker stalling all live performances.
According to Matsito's wife, Patience, the musician suffered a mild stroke that affected his facial nerve.
Currently Matsito is struggling to speak and has been going for speech therapy at a local medical institution.
Speaking with the help of his wife, Matsito expressed his gratitude to Masaiti who donated groceries including cooking oil, kapenta, sugar and meat.
"I wasn't expecting such a visit from a promoter outside Harare, and let alone bringing groceries to feed my family. As you can see, I am not fit to go back on stage and such generosity has taken off the burden I had, given that I have a family to look after," he said.
Matsito is currently staying with five of his six children, who are all going to school.
During the handover of the groceries, Masaiti said he was touched by the plight of the musician who had contributed much to the local music industry.
"He has done a lot in the music industry and he deserves all the assistance he can get given his current condition. I urge other well-wishers to do the same and assist our great artiste," he said.
Patience said her husband needed to attend a number of speech therapy sessions, as well as money to travel to a South African hospital for a medical review.
"He is expected to travel back to South Africa where he was admitted following the stroke. They recommended us to return so that they can assess him," she said.
"Currently, he is going for some speech therapy sessions, but because of [lack of] money, sometimes we skip a week.
He is supposed to do the sessions twice per week, and each session costs $20. I take him there whenever I get the money, but if the cash is not available I have no option, but to stay at home," Patience said.
The stroke happened in the wake of another misfortune when Matsito's leg was amputated after it had developed a condition called gangrene following a road accident in 2008 during which some of his band members perished.
A local financial institution BancAbc came to Matsito's rescue and secured a prosthetic leg from Germany for him.