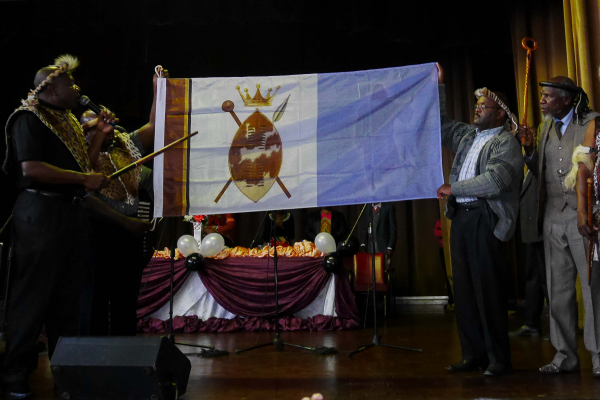 THE Khumalo clan members have distanced themselves from the new self-imposed Ndebele king, Stanley Raphael Khumalo, also known as Mzilikazi II.
BY RONALD MOYO
This comes amid reports that the new "Ndebele king" was planning to officially pull down the national flag and hoist his Mthwakazi nation flag in most parts of Matabeleland on September 12.
However, Nhlanhla Khumalo and Peter Zwide KaLanga Khumalo dismissed Stanley, saying his was a separate programme alien to the Khumalos' way of doing things.
They concurred that the clan members had not yet agreed on the successor for the Ndebele king.
"We know that this is a family thing, which goes through processes, under the monitoring of the chiefs. Mzilikazi had a proper channel of doing things," Nhlanhla said.
"I can tell you that as a family, we are still going through that process, and it's not a once-off thing. He is misleading people about our history."
Peter weighed in, accusing Stanley of hijacking the process and distorting the clan's traditions.
"We urge the public that the aspirations of having a king are very high, they should be patient. It is not very far. The programme for reviving the monarchy system has never been political. Boundaries are for political activists, not cultural activists. These boundaries are of allegiance, not geographic boundaries," he said.
"He (Stanley) has a picture standing between me and another Khumalo at Mhlahlandlela, which we took at his request. It has nothing to do with legitimasing his project or him being a Khumalo."
Peter said the intention to reinstate the Ndebele Kingdom was intensified by the late Chiefs Nyangazonke Ndiweni, Ngungumbane Mkhwananzi, Siphoso Dlodlo, and Sivalo Mahlangu, who called a meeting at Amakhosi Theatre with the Khumalo elders on November 6, 1997.
Peter said after the meeting it was resolved that the next king was in King Lobengula's houses, the representatives agreed that Lobengula had identified Nyamande as the heir apparent, and he was installed on June 25, 1896 by the Chiefs Dliso Matema, Bhabhiyana Masuku, Sikhombo Mguni and Mlugulu Khumalo.
He, however, failed to rule because the white settlers wanted to destroy the monarch system.
They banished him to Mbembesi after he had declined being appointed Bulawayo's paramount chief.