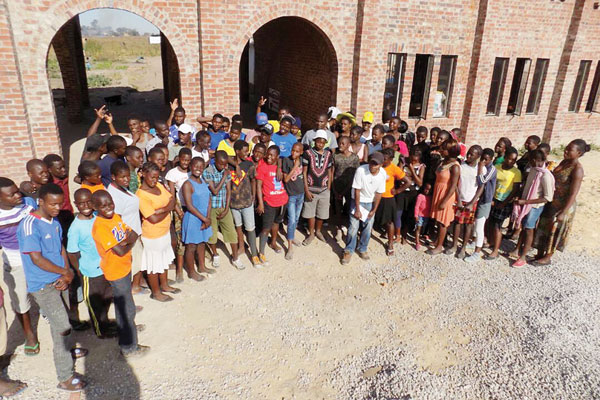 TWELVE-YEAR-OLD old Lisa lives in a one-roomed shack at the sprawling residential area of Hopley with her 27-year old sister, who is into commercial sex work.
BY JAIROS SAUNYAMA
For close to a year, the Grade 6 dropout has been witnessing her sister bringing in different men into the house for sex.
And she was left with no option, but to join the world's oldest trade.
"I only discovered that when I moved in with her following the death of our mother in Gokwe, she would bring in a number of male clients," Lisa said.
"I joined her because it seemed one could get quick cash. Sometimes I earn more than her because clients flock to younger girls."
She said she operates at a place called kwaAntony, notorious as a popular hunting ground for sex predators.
A visit to the area recently revealed that young girls, including those that should have been in primary school, have turned to sex work.
As the night deepens, top-of-the-range vehicles snake their way along the potholed road to the place to scout for young girls for sex, some who charge as little as 50 cents for a session.
Beside the popular kwaAnthony, there is also a place called paTouchline, a loose reference to how commercial sex workers line up along the road scouting for potential clients.
During recent commemorations of World Youth Day at Rising Primary School in Hopley, Brighton Banda (21), who resides in the area, said the situation was getting out of hand.
He said child prostitution in the area was being fuelled by poverty and unfavourable living conditions.
"Young girls are sexually exploited in this area. Most people here are poor and young girls staying with their grandmothers or foster parents and end up selling sex," he said.
"They even charge a paltry 50 cents for sex."
Nomatter Chimuti (17), who attended the commemorations, said some house and shack owners leased out their structures for sex work purposes, renting out a "small space" for as little as $2 per night.
"House owners, who live near kwaAnthony, are providing accommodation to the young girls, which they use as sex nests and lure their clients," she said, adding that a single room could accommodate over six girls, each of whom paid $2.
Chimuti said at times, there could be three sex sessions with different couples going on at the same time in a single room.
"If a girl gets a client, she brings them to the room and they conduct her business. At some point, there can be three pairs having sex at the same time in a room," she said. Chimuti added that the young girls were also in a tough competition with "senior" commercial sex workers, popularly known as magogodera, hence they charged less and at times even indulged in unprotected sex to win the hearts of clients.
Some of the girls reportedly come from Mufakose, Budiriro and Glen View.
According to a research done by the Zimbabwe National Council for the Welfare of Children (ZNCWC), girls around the age of 12 have joined the sex trade as a means of survival.
Another youth who resides in the area, Crispen Mangoma (17), pleaded with the responsible authorities to shut down the sex nests.
"It's high time the responsible authorities moved in and arrested this problem. Drinking holes at kwaAnthony should be relocated from this place where people stay," he said.
Hopley is a sprawling, but squalid settlement on the outskirts of Harare established during the Garikai/Hlalani Kuhle programme in 2005.
Regional Network of the Children and Young People Trust programmes officer Joseph Kauzani, whose organisation has been working closely with the youths in the settlement, urged the government to come in and rescue the children who are at risk.
"Our major thrust is to push the key decisionmakers to take a closer look at the community with a child rights-based lens. Currently, Hopley is an unpleasant and unsafe place to stay, especially for children and young people. This is due to the vast number of challenges faced on a daily basis by young people within this community," he said.
"The key issues of concern are high rates of unemployment and informal trading, high crime rates, inadequate learning facilities, child marriages, birth registration crisis among most of the residents including the adults whose lack of identity has created a cycle of unregistered citizens.
"In addition to this, there are high rates of drug and substance abuse amongst youths owing to lack of recreational facilities and/or youth centres in the area among other push factors."
Recently, a group of youths gathered and formed the Hopley Can Change Initiative, and have embarked on a door-to-door campaign encouraging the youths to stay away from commercial sex work and drug abuse.
ZNCWC projects officer Samuel Mandiwana said young girls were not able to negotiate for safe sex, hence they risked contracting sexually transmitted infections.
"Girls as young as 12 are involved in commercial sexual exploitation and the risk of HIV infection is, therefore, high among young girls since it's difficult for them to negotiate for safer sex with older men," he said.
"As ZNCWC, we intend to identify girls in commercial sexual exploitation and ensure they are back in schools so that they pursue their dreams."
For now, Lisa remains a victim of poor living conditions in Hopley and there is no indication when and how she will go back to school and pursue the already shattered dream of becoming a nurse.