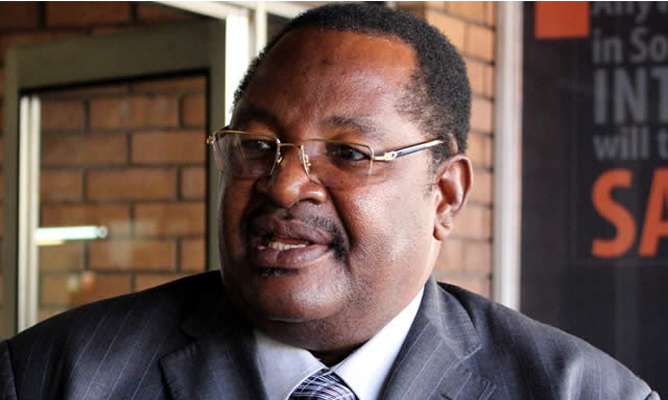 NTABAZINDUNA Chief Nhlanhlayemangwe Ndiweni has threatened legal action against some Zanu PF Matabeleland North leaders and activists who recently pounced on his home baying for his blood for expelling a married woman caught in an act of adultery.
BY SILAS NKALA
Chief Ndiweni recently ruled that Fetti Mbeli's wife Nonkangelo Mpengesi, whom he caught red-handed with another man from the same village, be sent back to her people.
This was after Mbeli approached the Chief's court seeking justice in the matter in which his rival suitor, only identified as Ngwenya, was to compensate him.
The Chief banished Mbeli and his wife from the area after it appeared they were defying his order to have Mpengesi returned back to her people.
This led to Zanu PF activists and leaders interfering with the traditional court process to block the banishment.
Following the interference by Zanu PF activists and leaders, Chief Ndiweni wrote to Rural Development minister Abednigo Ncube seeking his intervention in the matter before he could take a legal action against his tormentors.
In a letter dated August 1, Ndiweni said two months ago a villager (Mbeli) visited him complaining about his promiscuous wife after allegedly apprehending her having sex with Ngwenya in the bush.
He said he initially ignored dealing with the matter in his court, but Mbeli continued to push him until the matter was set down at his court.
"The traditional court found Ngwenya guilty of having sex with Mbeli's wife. The court fined Ngwenya two cows ($500). The court asked Mbeli of his wish with his wife and he requested that if she did not admit her infidelity, she must be sent back to her people for counselling as per custom and tradition," Ndiweni wrote.
"MaMtambo (Mpengesi) did not admit. The traditional court agreed to Mbeli's request that she should be sent back to her people within ten days."
She was to stay there until December this year, but before that could happen, Mpengesi returned to the court and admitted to the offence and was sent back to her people.
"Some days later a twin cab arrived at my residence. It had 10 people. There was Richard Moyo (Mat-North Zanu PF chairman) . . . and Zanu PF members from Umguza constituency," he wrote.
"They said they … wanted to talk about the Mbeli case. I told them it was a private matter. The group was angry," he wrote.
He said they constantly questioned the legitimacy of his chieftaincy before they later returned Mbeli's wife back to his home before harassing one of the village heads.
"They demonstrated outside my home and 95% of the protesters were from Nyamandlovu and not Ntabazinduna. Ntabazinduna people were angry and insisted on a further charge of contempt of court on Mbeli and his wife for backtracking on the court order.
Chief Ndiweni ordered Mbeli to be removed from the village and sent his men to execute the order, but they were stopped by armed police and Zanu PF activists. He accused Umguza MP Obert Mpofu of being the force behind the chaos.
"For myself I have no option, but to look at what legal measures in the courts I can take against all of those involved with respect to contempt of court. I will be also looking at those who hindered a traditional leader in the course of his duties.
"I will be also looking at suing officers at Mbembesi Police Station," Ndiweni wrote.
"Minister, I remain hopeful that we may have an amicable resolution to this matter before positions become hardened."
Mpofu on Thursday refused to comment on the letter which Moyo is yet to respond to.