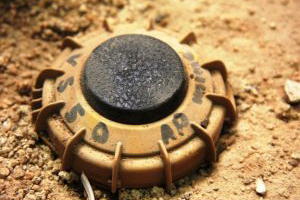 Landmines planted in the Mt Darwin area at the height of the liberation struggle are threatening the lives of locals amid revelations that the area is infested with dense minefields more than some war-torn areas in Afghanistan and Syria.
By Tinotenda Munyukwi
Halo Trust, an organisation demining the area, told NewsDay Weekender on the sidelines of a tour of the minefields by the Japanese embassy that the region had some of the densest minefields in the world, with some areas still with the R2M2 landmine capable of mincing an entire human being.
"I have worked in Afghanistan and Lebanon, but I can tell you that what we are encountering in this place is serious. The minefields are very dense and as you can see some of the locals are taking the risk and ploughing fields in the infested areas," Halo Trust's supervisor for the demining activities in Mukumbura, Picture Knowledge July said.
Through funding from the Japanese embassy and other partners, Halo Trust has managed to demine five square-kilometres of land out of a targeted 29 square-kilometres in Mashonaland Central and Mashonaland East provinces.
Mt Darwin North MP, Noveti Muponora said people in areas east of Mukumbura were still in danger of the landmines and efforts to unearth them had to be expedited, while also calling for assistance for people, who have fallen victim to these remnants of the 1970s armed struggle.
"As you can see, our people are still at risk and they need land to expand their economic production, and we have some who lost limbs, relatives and even livestock, so we are calling for assistance for those," he said.
Japanese ambassador to Zimbabwe, Toshiyuki Iwado pledged his country's continued support towards the demining activities beyond the $2 million it had contributed so far since 2013.
"Japan will try her best to stay supportive of demining in this area until we can say we did it," he said.
Landmines were placed along the northern and eastern borders of the country by the Rhodesian forces in the 1970s in an effort to prevent liberation war fighters from crossing from Mozambique.