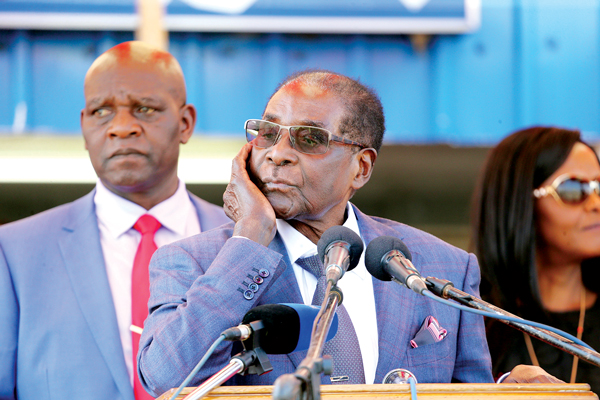 PRESIDENT Robert Mugabe has literally abandoned Zimbabwean students who initially benefited from his much-vaunted presidential scholarship fund, with many facing the prospect of being expelled from different universities, it has emerged.
BY RICHARD CHIDZA
Hubert Nyabadza, who claims to be the president of an association of Zimbabwean students in Russia, took to microblogging social media site Twitter to approach Higher Education minister Jonathan Moyo for help.
"My name is Hubert Nyabadza, I am the Zimbabwean students in Russia association president. If you could help me, sir. Students here have a big problem.
"We are starving, sir. Some of us want to go back home. Mr Mushohwe (Department of National Scholarships in the President's Office) hasn't done anything about it. Please inform him about this matter please if you can," Nyabadza said in a message addressed to Moyo.
Moyo, in a terse response, wrote: "What is the problem Cde Nyabadza? Message noted and will be forwarded as a matter of urgency." Christopher Mushowe, the Minister responsible for Scholarships in Mugabe's Office, was not available for comment.
His mobile phone was answered by a woman, who claimed to be his wife.
"I am his wife. He is in a conference and I will only be able to talk to him later this evening," the woman said. In another tweet, Nyabadza demanded a meeting with Mugabe.
"If it's possible, sir, we would like to meet the President himself to tell him our story since we are under presidential scholarship. Please, sir, help us," he said, to which Moyo did not respond.
As the debate went viral, another student in Algeria on a presidential scholarship said they had not been paid for nearly a year.
"Also us in Algeria, we haven't received money for a year now. Please spread the word also," the Algeria-based student said.
Zimbabwe National Students' Union (Zinasu) spokesperson Zivai Mhetu described the plight of the students as akin to baby-dumping.
"Zinasu has been denied access to information on the criteria and numbers of people who have qualified for the presidential scholarship fund. Put simply, the situation that these students find themselves in is an act of baby-dumping," he said.
"The scholarship has been a privilege of students connected to the political elite, oligarchy, nobility and probably those aligned to a certain Zanu PF faction."
Social activist Evan Mawarire, who leads #ThisFlag movement, said government should either honour its obligations or bring the students home.
"Either government honours its obligation of seeing them through their studies or bring them back. It is embarrassing and incredibly irresponsible that our children have become destitute because of the negligence of the State," he said.
MDC-T spokesperson Obert Gutu said: "Those students are on their own right now, because the national Treasury is literally bankrupt. It is only Mugabe and members of his inner circle who are able to easily access foreign currency in this country."
Another opposition leader, Philemon Machana of the Zimbabwe Transition Alliance, said Mugabe's actions were driven by populism despite "glaring signs of non-sustainability of some programmes".
"Now the old man (Mugabe) has gone on and created a fully-fledged ministry for scholarships when his government is failing to look after the current crop of students. The worst is yet to come. Mugabe's wife (First Lady Grace) wants a $1 million ring, the President donates $1 million to the AU. It's sad," he said.