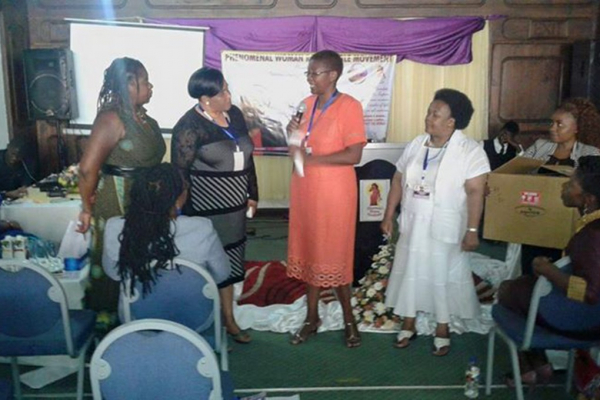 HUNDREDS of women are set to converge for the 2017 edition of the Game Changer Convention, a platform that deals with issues that affect Christian women.
BY PHYLLIS MBANJE
The two-day conference, which will be held under the theme "Behind the Veil: The Hurts of the Heart", is a partnership between two inter-denominational women's ministries, Phenomenal Woman Roundtable (PW) founded by Lyn Chidavaenzi and Aquina Gunda's House of Intercession (HOI).
Chidavaenzi told NewsDay Weekender that the convention, which was first held in 2015, was designed for emotionally wounded women that were hurting in silence.
She said there was need to empower women to be able to function beyond the kitchen because they had a lot to contribute to society.
"We believe as women, we have a pivotal role to play in our societies outside motherhood. We believe we have something to contribute towards the building of our communities and that we are that generation of women whose roles transcend the bedroom and kitchen. We strongly advocate for women to be engaged in intelligent conversations," she said.
Chidavaenzi described the conference as life-transforming and designed to demonstrate the need for women to work together in all facets of life to achieve their goals and that was what informed their decision to have a joint effort.
She said the need for unity among women could not be over-emphasised.
"What's exciting for us as Phenomenal Woman Roundtable is that we are co-hosting this year's meeting with our sister platform, HOI. We are firm advocates of women partnering to push kingdom purposes. We believe in women, especially those in the kingdom of God complementing and not competing with one another," she said.
Chidavaenzi encouraged women that desired "a wholesome relationship" with God to attend the conference.
She said the conference's theme was informed by the realisation that it was difficult for "wounded leaders" to be effective.
"It is difficult for wounded leaders to change the game," she said. "Most women in the body of Christ seem to be on top of their game, in the prime of their womanhood, slaying and on point in their appearance, yet inside they are broken and in a mess."
She said women's make-up and designer clothes and shoes as well as their accessories were often used to hide not only physical flaws but "untold pain and suffering".
"So, before we can be effective in our homes, let alone in the community, we first need to deal with the inner hurting woman. She needs to heal from past mistakes, failures, betrayal, anger, failed relationships, abusive marriages, childhood rape, you name it," she said.
A number of speakers participated, including Duncan Manyonda, the founder of a platform called This Woman Africa, designed to empower women. Music ministration will be led by rising gospel musician Wenyasha Chingono and Zimpraise's Sharon Manyonganise. Speakers at the 2015 edition included Standards Association of Zimbabwe director-general Eve Gadzikwa, former Zimbabwe Prisons and Correctional Services public relations officer Elizabeth Banda and Women's Coalition of Zimbabwe chairperson Virginia Muwanigwa.
Chidavaenzi said this year they decided to draw all their speakers — Gunda, Kim Bangira, Cynthia Mabhena, Patience Chimondi and Anele Dube — from PW and HOI.
"We decided to give our very own the platform to express the fullness of their ministries. We believe this will be the norm as our platform is a bag of multi-talented and gifted women," she said.
She said PW was an interdenominational women's platform whose mandate was to inspire and empower women to flourish in society.
"We believe in helping women discover their purpose, walk and grow in that purpose. We believe in producing a wholesome Christian woman who is both earthly and heavenly relevant. We embody the principles of being your sister's keeper," she said.
HOI founder Gunda, who is based in Bulawayo, said she experienced "most of the difficulties and heart-breaking moments that women go through," and that inspired her to establish HOI, which holds a raft of programmes — including all-night prayers — in Harare, Bulawayo and Masvingo.
"The extraordinary facet of HOI is, it's a group where one can go and share their joys and the women celebrate with her. When faced with challenges of life, one can go cry and find comfort as other women stand in prayer with you and lift you through the agony," she said.
"HOI focuses on grooming a person wholesomely. It has different departments which cater for the different seasons in a person's life."
The ministry has tailor-made programmes for different groups of women, and this has helped them effectively assist women in need from different backgrounds. It has subgroups including HOI Queens (for married women), Sweet Angels (for single women) and Ruth, which caters for the divorced, widowed and single mothers.
"The reason for this is that because of the different seasons it's best to categorise each woman accordingly and have common issues discussed freely among peers in the same group," Gunda said.