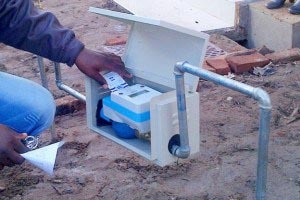 Chiredzi Town Council is rolling out feasibility studies on prepaid meters despite perennial water shortages and incessant lobbying against the gadgets by residents' associations.
BY GARIKAI MAFIRAKUREVA
Chiredzi town secretary, Charles Muchatukwa recently told a full council meeting that they are giving priority to prepaid water meters this year.
"I urge those looking into the matter of prepaid water meters to urgently do so," he said.
Zimbabwe United Residents' Association (Zura), which is lobbying against installation of prepaid meters, said the gadgets are not cost-effective.
It also argues that it is a violation of human rights enshrined in section 77 of the Constitution which states that: "Every person has a right to safe, clean and potable water" and that "the State must take legislative and other measures, within the limits of resources available to it, to achieve the progressive realisation of this right."
Zura said a prepaid meter costs between $250 and $300 and has a life span of five to seven years compared to 15-20 years for conventional meters.
A study carried out by the Bulawayo Progressive Residents' Association (BPRA) showed prepaid water meters would not solve councils' liquidity challenges.
BPRA information officer, Zibusiso Dube said: "If anything, the council is barking up the wrong tree, for the study shows that the non-payment of water services is not the biggest challenge the council is facing, where water services are concerned.
"Instead, the council is faced with a huge challenge of reducing levels of non-revenue water which stood at 69% of water produced. In fact, it's real losses which include water losses due to leakages on transmission and/or distribution mains, leakages and overflows on storage facilities and leakages on service connections. Councils are just losing millions of dollars through leakages," he said.