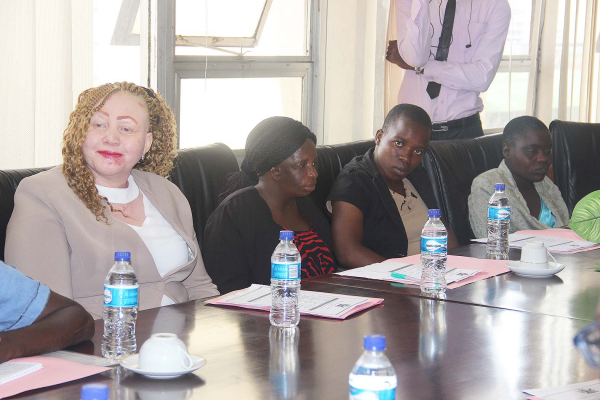 People living with disabilities might finally get their reprieve in terms of representation and meaningful participation following the appointment of a 17-member National Disability Board which will assist the Labour and Social Welfare ministry in the implementation of programmes specific for that group.
BY MUNESU NYAKUDYA
Announcing the appointment, Labour minister Petronella Kagonye said: "The board will be expected to formulate and develop policies and strategies designed to ensure that persons with disabilities live independent lives and that they have access to all social services.
"As such, we still have a lot of issues to attend to, where the board will be called upon to facilitate in areas such as finalisation of the national disability policy and the alignment of the Disabled Persons Act to the Constitution," she said. Among the 17 members, 10 are men and seven are women.
Kagonye also said that globally, attention was being placed on mainstreaming disability.
"As we are a State party to many conventions including the United Nations Convention on the Rights of Persons with Disabilities, government is then called upon to allocate adequate resources that will ensure that this function is achieved." She also said the appointment had come at a crucial time in the disability fraternity and the nation as a whole, adding that board members were being called upon to prove their worth as it would no longer business as usual within the new dispensation.
Kagonye said disability programmes within the ministry had been earmarked for the 100-day rapid results initiative. The newly-appointed board chairperson Mercy Maunganidze, from the Zimbabwe Albino Association, said with support, the board could transform the lives of persons with disabilities.
"What I cherish most is the privilege to serve not ordinary people, but a special group of people who had been regarded as outcasts, but from which a lot of untapped potential lies.
"I am sure with your support we can transform the lives of persons with disabilities. Remember it's not a one-man band. We can only achieve this if we can work together as a country."
Others members are Rejoice Timire Ncube, Albert Zimunhu, Langton Mugova, Tarisai Mukurudza, Edward Mundanga, Mercy Maunganidze, Constance Sibanda, Farai Munyamana, Crabbie Chinomona, Senzeni Mutevedzi, Tsarai Mungoni, Rufaro Pasipanodya, Precious Musiniwa, Munyaradzi Mushukuto, Simon Tewende, Khuzi Ncube and Sneddon Soko.
The newly-appointed board will serve as the sixth National Disability Board.
People with disabilities have been agitating for a stand-alone ministry, arguing that the Labour and Social Welfare ministry had a lot of responsibilities, and was not addressing their needs and social issues as they should.