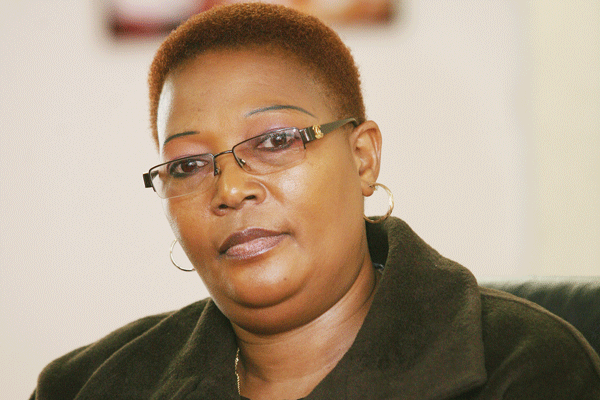 MDC-T vice-president Thokozani Khupe could be thrown out of the party if she misses today's national standing committee (NSC) meeting, which will be chaired by acting president Elias Mudzuri, NewsDay has heard.
BY XOLISANI NCUBE
Khupe missed last week's meeting together with national chairperson Lovemore Moyo, who, however, issued an apology.
Sources said Khupe's failure to attend meetings was now being viewed as contemptuous in the context of her reservations about the creation of the MDC Alliance – a coalition of opposition parties.
Senior MDC-T officials, who spoke to NewsDay yesterday, said moves were already in place to censure Khupe for absconding party meetings.
"She has chaired NSC meetings before and we gave her the necessary support, but we have realised that she does not want to support others," an official said.
"We are going to have another NSC meeting this week and if she fails to attend, but later goes to Parliament, we will cause her ouster."
Khupe, who missed the previous meeting, is reported to have attended Parliament later during that day, something that peeved her MDC-T colleagues.
Party spokesperson Obert Gutu confirmed today's meeting, but declined to reveal its agenda.
"It's a routine NSC meeting that will be chaired by the acting president Elias Mudzuri," he said.
MDC-T leader Morgan Tsvangirai, who is currently out of the country for medical attention, appointed one of his deputies, Mudzuri, as acting president, further fuelling already raging factional fires in the party.
Khupe is reportedly against the MDC Alliance and has insisted that if the MDC-T wants to go into coalitions with other parties, it should only do so in Mashonaland provinces, where it has traditionally fared badly.
Gutu dismissed the alleged plot to kick Khupe out, describing it as "hogwash".
"I am not going to dignify trash by providing a substantive response," he said.
But another source said it was a matter of time before the party makes its position on Khupe if she continued to miss meetings and allegedly "fund rebellion" within the party.
"The problem is that she thinks she is entitled to succeed MT [Tsvangirai] and she wants to hold us to ransom. No, she must know that MDC-T is bigger than an individual," the source said.
"We are watching her carefully.
"The more she bunks party meetings, the easier it becomes for us to take action.
"We know Tsvangirai will reverse the decision, but we would have sent a clear message to her and others."
The MDC-T is facing internal fights, with officials angling to succeed Tsvangirai, who has indicated his intention to step down.
The fights are reportedly centred around Tsvangirai's three deputies – Khupe, Mudzuri and Nelson Chamisa – who are reportedly vying to succeed the ailing party leader.
Attempts to get a comment from Khupe were fruitless.