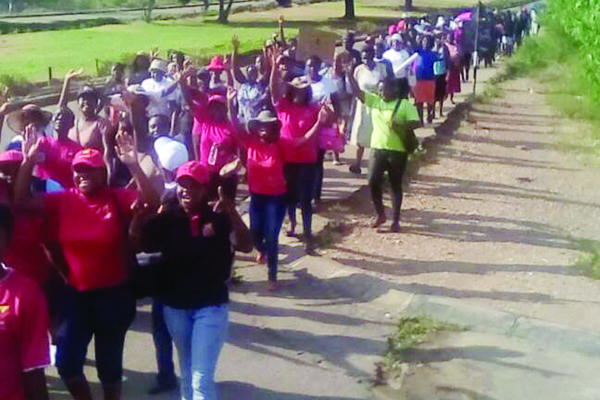 HWANGE Colliery Company Limited (HCCL) miners' spouses, whose sit-in has reached its seventh day, have threatened to march to Victoria Falls to attract global attention if no action is taken by the government.
By Nokuthaba Dlamini
Hundreds of women, who camped outside the HCCL premises since last Monday, have pitched a tent at the mine entrance, where they are braving the torrential rains, some with their babies.
Home Affairs minister Obert Mpofu on Friday addressed the protesters, promising to take their grievances to President Emmerson Mnangwagwa.
This was after the women started blocking the entrance to the mine with branches, to stop the company's management from leaving the premises before the issue is resolved.
Thokozile Ncube, on behalf of other women, said despite the minister's intervention, they will not back off before their concerns were addressed.
"We were not moved by his visit. All we want is our husbands' salaries for five years. The management is living lavish lifestyles, yet our husbands are mocked for demanding their salaries. We have given them up to Tuesday (tomorrow) and February 15 to pay all the arrears. If nothing materialises, we will march to Victoria Falls. We will be carrying placards and we will tell the world everything about the company and how our government has failed us," she said.
The women are demanding that HCCL fulfils its pledge to pay their husbands' outstanding salaries, after agreeing to a scheme of arrangement last year and address unjustified termination of contracts, nepotism and retrenchments among other grievances.
"Every tourist will know, we have mobilised everything, all that we are waiting for is Tuesday.
"We have mounted a tent by the entrance because it's been raining at night so we are sleeping there everyday and we will not leave until something is done, they are always threatening our husbands whenever they inquire about their salaries, retrenchments and renewal of contracts and we say enough is enough."