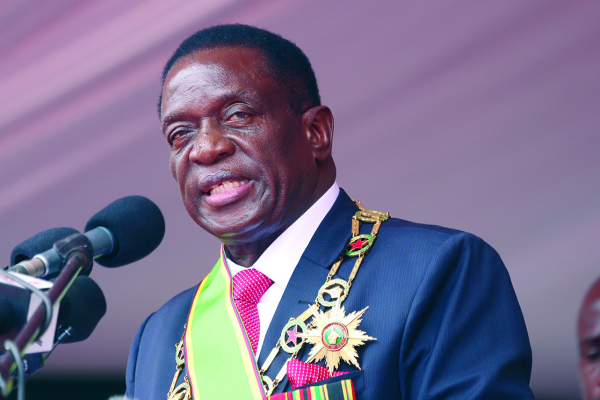 PRESIDENT Emmerson Mnangagwa has shut the door on Zimbabweans based in the Diaspora, saying they will not be able to vote in this year's elections because government does not have resources to set up polling stations in their host countries.
BY BLESSED MHLANGA
Addressing Zimbabweans staying in Rwanda early this week, Mnangagwa said: "We are not there yet in terms of resources, we do not have the resources to make sure that you vote from where you are. Voting won't take you 10 minutes, so if you want to vote, just come home and in less than 10 minutes you will have finished voting and go back to your work."
His remarks comes before the Constitutional Court makes a ruling on the Diaspora vote.
MDC-T secretary-general Douglas Mwonzora yesterday said Mnangagwa was offside, as his statements were unfair and nothing but an attempt to suppress the voice of the Diaspora.
"That is unfair, resources have to be availed to ensure Zimbabweans outside the country to vote. They are allowed by the Constitution to vote, fortunately a case has been argued in the courts on the Diaspora vote and we are waiting for a response," he said.
Mwonzora said Mnangagwa had made a legal blunder commenting on a matter before the courts as Head of State.
"His statements have an effect of influencing the judgment and it also says even if the courts rule that they should vote his government has taken a stance," he said.
Electoral watchdog Zimbabwe Elections Support Network (Zesn) said the government should act and show political will instead of crying rivers.
"It is imperative that the government avails adequate resources to Zec (Zimbabwe Electoral Commission) in order for it to effectively discharge its constitutional mandate of running elections in Zimbabwe.
"Political will must also be demonstrated in establishing mechanisms to extend the right to vote to segments of Zimbabwean citizens in the Diaspora, those in prisoners and hospitals to ensure inclusion of all eligible citizens in electoral processes. Other countries such as Kenya, Mozambique and South Africa have made great strides in ensuring that those living in the Diaspora are given an opportunity to participate in electoral processes," Zesn said.
The Elections Resources Centre said: "The credibility of the 2018 will be partially based on issues of enfranchisement. Dismissing the issue of the Diaspora vote, which already exists by the way, through postal voting by officials on government business outside the, flies in the face of assertions of full support for credible, free and fair elections.
"How can our elections be fair if there is segregation in allocating the right to vote. That not withstanding, it is exaggerated that their diaspora vote costs too much money. There are versions of diaspora like the currently existing one which is voting by post which does not require extensive resources."