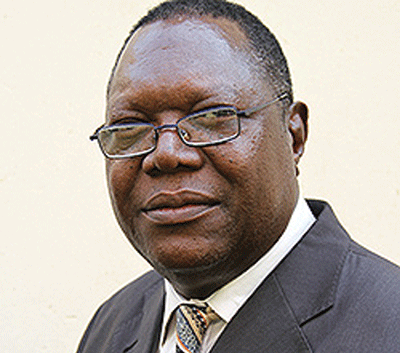 SUSPECTED Zanu PF activists in Marondera have reportedly invaded a farm owned by National Patriotic Front (NPF) interim leader, Ambrose Mutinhiri's son, Tafara, in protest over his father's decision to join opposition politics.
BY JAIROS SAUNYAMA
Tafara confirmed the incident yesterday, saying the ruling party supporters invaded his 76-hectare agricultural plot in Picaddily, about 12km outside Marondera, on Monday.
"I received news from the gardener that six youths arrived in a Toyota Harrier and told him that they had come to take over the farm. They said we have joined NPF and I am no longer the owner since the farm belongs to Zanu PF," he said.
Mutinhiri's son said he was now living in fear after the activists threatened to harm him, when he went to the farm to investigate the matter.
"When I arrived at the farm, the road leading to the residence was blocked, the gate pulled down while some youths had already made a fire. They began whistling and another group whistled from the bush in response."
Mutinhiri, who until recently was Mashonaland East Provincial Affairs minister and a top Zanu PF official, defected to the NPF, claiming the ruling party had been hijacked by the army, who employed undemocratic means to seize power from former President Robert Mugabe.
A liberation war veteran, Mutinhiri also surrendered his Marondera West constituency before being appointed NPF leader, a party that is mainly made up of fired former Zanu PF members.
NPF is also linked to Mugabe and his wife, Grace.
Mutinhiri's son claimed that police in Marondera had refused to assist him to drive away the invaders, citing staff shortages, among other reasons.
"I realised that I was going to be overpowered since I was alone. I went to report the case to police and asked them to escort me, but they said there was no manpower. I also approached the CID Law and Order, but it seemed they were under instruction and told me that they can act tomorrow (yesterday). Recently, a group of people broke into my house at the farm and ransacked it, they left only curtains," he said.
"I went back to the plot this morning (yesterday) and found eight men at the gate. I went to Marondera Rural Police to open a docket, but they refused. They just wrote something down," he said.
But, provincial acting police spokesperson Assistant Inspector Tendai Mwanza said they had not received a report from Mutinhiri's son.
Zanu PF provincial youth chairperson, Kelvin Mutsvairo also said he was not aware of the alleged invasion.
"I am not aware of that, I am hearing it from you. I will find out what transpired and if our members are involved," he said.