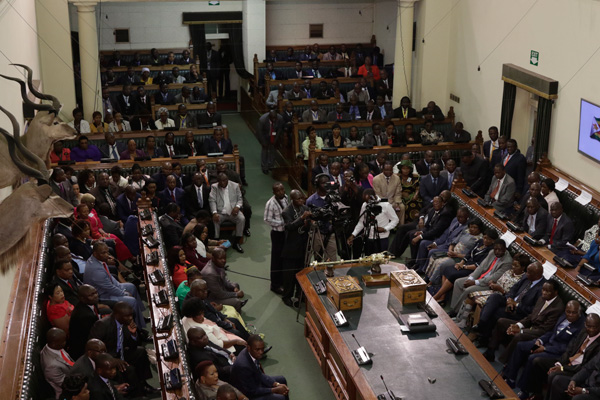 PARLIAMENT has urged government to support its "Zimbabwe is open for business" mantra by introducing investor-friendly policies.
BY VENERANDA LANGA
The Mines and Energy Portfolio Committee said this in a report following the cancellation of licences for several diamond mining companies who used to operate in the Chiadzwa to pave way for the creation of Zimbabwe Consolidated Diamond Company (ZMDC).
"The joint venture partners of ZMDC were bitter on what they went through as a result of the consolidation process," the report said.
"The views of the investors can be summed up in the words of Lovemore Kurotwi from Canadile who said 'in as far as investors are concerned, Zimbabwe is a lion's den, and investors will come at their own peril because there is no guarantee that when you invest you will get your money back. I am a victim of that and it has taken me almost 10 years to recover what we had invested genuinely'."
Investors in Chiadzwa also accused the Mines ministry of flouting investment agreements and for not respecting the laws of the country during the hostile takeover of their concessions where police came armed with AK47 riffles to forcefully remove them.
"In the case of Anjin and Mbada, their investment agreements did not have a timeframe in which the special grants would expire. Their operations would continue as long as they paid the statutory fees and at the time of the takeover the statutory obligations had been paid. As for DTZ Ozgeo and Rera, their special grants had not expired, but the government took them over. It is the committee's position that such kind of treatment of investors will only scare away investment," the report said.
Parliament pointed out section 71 of the Constitution requires the respect of property rights, adding that investors should be protected from any acts of corruption in order to secure a license or protect their investments.
"Kurotwi claimed he lost his diamond concession as a result of failing to pay a bribe Obert Mpofu (the former Mines and Mining Development minister). Furthermore, the committee was told that some investors were forced to pay legal fees to Farai Mutamangira for unknown services," the report said.