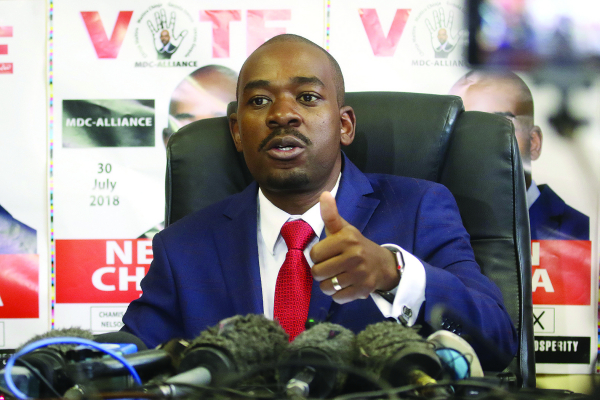 YESTERDAY'S results pronounced by the Zimbabwe Electoral Commission (Zec), which are being contested by the main opposition MDC Alliance, are a stark reminder of the year 2000.
BY TAPIWA ZIVIRA
When the late veteran politician and icon of democracy, Morgan Tsvangirai entered politics in 1999, emerging from a successful run as leader of the main trade union movement, the Zimbabwe Congress of Trade Unions, the ruling Zanu PF, under the then president Robert Mugabe, taunted Tsvangirai as an uneducated former tea-boy who had nothing to offer to the country.
But, after Tsvangirai's party, the Movement for Democratic Change (MDC), overturned Zanu PF's majority in Parliament and won 57 out of the 120 seats against a Zanu PF campaign oiled by State machinery in 2002, the late Tsvangirai was immediately taken seriously.
What followed, in the face of a presidential election with Mugabe two years from then, was a serious onslaught on the MDC and Tsvangirai.
The feat achieved by the MDC – the first since independence – unmasked Mugabe as a brutal dictator who would not tolerate serious threats to his rule.
The next two years were marked by arbitrary arrests of Tsvangirai and his supporters, state-sanctioned murders and abductions and other forms of suppression of the opposition, a situation that resulted in Zimbabwe becoming a pariah state.
The late Tsvangirai went on to lose the 2002 presidential elections, but he had written his name in the history of Zimbabwe as the first man to pose a serious and continuous challenge to Mugabe.
So in essence, history appears to have repeated itself when a youthful Nelson Chamisa assumed leadership of the MDC in February this year after Tsvangirai's death.
A young man fresh from law school, Chamisa, at one of his first rallies after assuming party leadership, promised bullet trains, airports and spaghetti roads to a country that had been so rundown all the road and rail networks were in shambles, and the national airliner was dysfunctional.
Zanu PF, now under Emmerson Mnangagwa, a long-time Mugabe enforcer linked with the brutal Gurukahundi massacres of the 1980s and the 2008 political violence, was facing a political freshman.
Mnangagwa was also seeking a break from the past, and preached tolerance and freedom, which he implemented to some extent, and perhaps also believing Chamisa would be an easy opponent in elections.
Just as Tsvangirai was taunted as a teaboy, Chamisa was called a little boy who needed diapers.
Social media memes were created of Chamisa wearing diapers and when the opposition leader promised bullet trains and spaghetti roads, Zanu PF top officials including Vice President Constantino Chiwenga laughed off the prospect of having such in Zimbabwe.
But during the last weeks of the election, where it was clear that Chamisa was drawing bumper crowds at his rallies, Zanu PF heightened its attack on Chamisa, but the party and its leadership were mindful of its promise to the international community that they would hold elections in a free environment characterised by tolerance.
The break, it appears, came when the results were being counted and it appeared that Chamisa had done quite well.
Two days after elections, opposition supporters protesting in Harare against Zec's delay in releasing the results and the generality of people in the streets found themselves being shot at by soldiers.
The unprecedented move, which left six people dead and 14 injured, negated all the progress that had been made in peacebuilding, and brought back memories of the Mugabe era, where any serious protest was met with the most brutal means of suppression.
And when the final presidential results came, Mnangagwa – who had all the state machinery, a biased Zec and excess financial resources, had only managed just 50.8% of the votes against Chamisa's 44.3%
Chamisa, who had only taken over from Tsvangirai four months earlier and was mocked as a little boy, and ran a campaign on tight budget, had lost, but managed to dent the Zanu PF support base, doubling the votes Tsvangirai got in 2013.
Whether the results are reversed or not, it is with no doubt that with the official backing of over two million Zimbabweans, Chamisa pulled a Tsvangirai on Mnangagwa and has posed himself not a little boy who needs diapers, but as the single biggest threat to Zanu PF's rule.
And if the old Zanu PF way of treating serious threats is still intact as shown during the last MDC Alliance demonstrations where the army was deployed on unarmed civilians, then the journey of state brutality and repression has just started for Chamisa and MDC Alliance supporters.