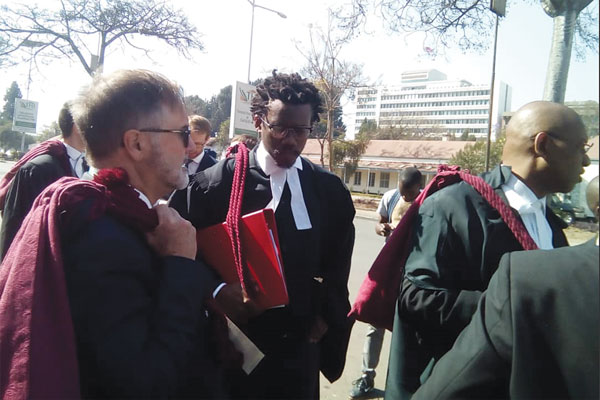 MDC Alliance leader Nelson Chamisa's South African lawyers were yesterday left disappointed after their last-minute attempt to represent their client in a matter in he is challenging the victory of President-elect Emmerson Mnangagwa, was denied.
BY OBEY MANAYITI
The lawyers include Dali Mpofu, Jeremy Gauntlet and Tembeka Ngcukaitobi, who were hoping to argue in Chamisa's corner during the Constitutional Court hearing which kicked off yesterday.
They told NewsDay at the ConCourt that the stance taken by government to deny them a chance to practise was a travesty of justice.
"As matters stand now, the right of the MDC Alliance to be represented by counsel of their choice has been sadly denied and we think that it is travesty of justice," Mpofu said.
He said they were also making a last-minute attempt to apply for the licence, although they were not convinced it was going to sail through.
"It doesn't look like there is political will to allow the constitutional rights of the MDC Alliance to be exercised today, which will be a pity if that is the case," Mpofu said.
"What we want to make clear is that on the side of the judiciary, the only remaining stumbling block was the "say so" of the minister. So that seems to be what stands between this matter heard in court with our participation or not."
Justice minister Ziyambi Ziyambi, who was supposed to make the determination, had earlier on indicated that the government was willing to grant the lawyers licences, before backtracking at the 11th hour.
The lawyers desperately moved from one entrance to another as they sought to gain access into the courtroom.
When they were finally let in, there were visible sighs of relief from the MDC Alliance legal team.
Chamisa's spokesperson Nkululeko Sibanda deplored the treatment of the lawyers.