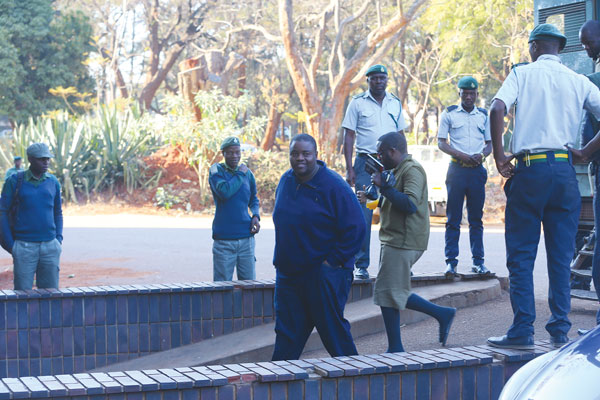 ACTING Prosecutor-General (PG) Kumbirai Hodzi has raised a red flag over the failure by judicial officers to place businessman Wicknell Chivayo on remand after the latter was charged with swindling the Zimbabwe Power Company of over $5 million.
BY RICHARD CHIDZA
Chivayo was recently granted $2 000 bail by High Court judge Justice Benjamin Chikowero, who argued that the State's case was "weak".
But Hodzi yesterday revealed he was looking into the issue.
"I have exercised my constitutional mandate and directed the police to launch a full investigation into the circumstances under which Chivayo and his accomplices were charged, but never placed on remand as the law demanded," Hodzi told NewsDay.
He said the National Prosecuting Authority (NPA) was yet to place its evidence against Chivayo before a court.
"The evidence relating to the two cases has not yet been heard in court. The evidence is compelling and clearly establishes all the essential elements of the crimes committed by the accused persons. In both cases that involve Chivayo there have been concerns behind the failure to place the accused person on remand, at a time when the evidence uncovered demanded that this be done," he said.
Chivayo was also accused of violating his bail conditions and was reportedly only remanded when he appeared before the courts.
Hodzi seemed unwilling to discuss the matter further when asked if there was an investigation into the granting of bail by the High Court.
"Circumstances around the award of bail is another thing that this office is looking at," he said.
Hodzi added that the NPA had an iron-clad case against the accused and had already set a trial date.
"We are in receipt of two dockets pertaining to one accused person Wicknell Chivayo for which trial dates have been allocated. In the first case, Chivayo is being charged with committing fraud in collusion with another accused person. This matter has been set down for trail for early September.
"In the second case, Chivayo faces corruption charges and is jointly charged with one (former Energy minister) Samuel Undenge. The trial date for this matter has been set down for the 14th September 2018. Both these cases will be heard in the Special Anti-Corruption Court at the Harare Magistrates' Courts," Hodzi said.
"In both cases the State has incontrovertible evidence against all the accused persons concerned and that's why they have been set down for trial. Trial dates were set down after thorough investigation and also a rigorous examination by a joint team comprising NPA law enforcement agencies and members of the elite presidential anti-corruption unit."
Two months ago, President Emmerson Mnangagwa set up a crack anti-graft unit in his office to deal with high-profile corruption cases before handing them over to the NPA for prosecution.