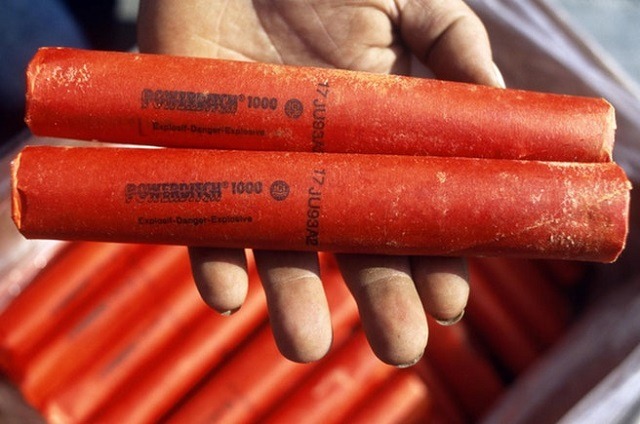 AN ailing Kwekwe-based explosives manufacturer could have compromised national security because of poor security and failure to follow laid down procedures at its plant, workers have alleged.
BY RICHARD CHIDZA
In a stinging letter, accompanied by a petition to the inspector of mines, workers at GML Explosives made startling allegations against the company, including security and legal breaches.
"We note with great concern that the company was not observing rules and regulations pertaining to the sale of explosives. The company is selling explosives to customers without permits and in cases of customers with permits, their permits are not endorsed as required by law.
"We suspect the company is not keeping proper and accurate records of explosives sold and this compromises national security," the workers alleged.
Mines principal director Charles Tahwa confirmed receipt of the letter, but referred questions to Mines secretary Munesu Munodawafa.
"Yes, but talk to the permanent secretary," Tahwa said.
Earlier, Tahwa had requested time to consult with the inspector responsible for explosives, who he said was in charge of such cases.
Munodawafa said he was tied up with the Harare Agricultural Show Society business and could not talk.
The employees have demanded that the company be placed under liquidation because it had not been operating and that it owed them in excess of $1 million in salary arrears.
Two people died while dozens including Vice-President Kembo Mohadi, were left with injuries after an explosion rocked White City Stadium as President Emmerson Mnangagwa left the podium after a Zanu PF campaign rally in June.
The August 17 letter, which shows it was received at the Mines ministry four days later, said GML Explosives had also failed to follow procedure in the disposal of defective explosives.
"The company is not reporting bad/reject/defective explosives to the inspector. A lot of poorly manufactured boxes of defective explosives were returned by customers late last year and early this year, but these were never reported to the inspector of mines in terms of the law and there is no evidence to show how they were disposed of," the letter said.
Owned by Croinvest (Pvt), the company, formerly Dyno Nobel, has been struggling to survive for years. The workers claim that security at the premises in the Midlands city is compromised and was in breach of the Explosives Act.
Early this week, seven GMB workers died while one is still missing in Chinhoyi after an explosion, suspected to have been caused by an electrical fault, left scores injured.
"Sir, we are sitting on a time bomb, which can explode anytime. Regular inspections of lightning conductors are not being done. Lightning conductors are not maintained yearly and no certificates of good order, after mandatory inspections, have been obtained by the company as required by law. In other words, buildings, metal walls, roof and all plant machines are not efficiently earthed," the letter also said.