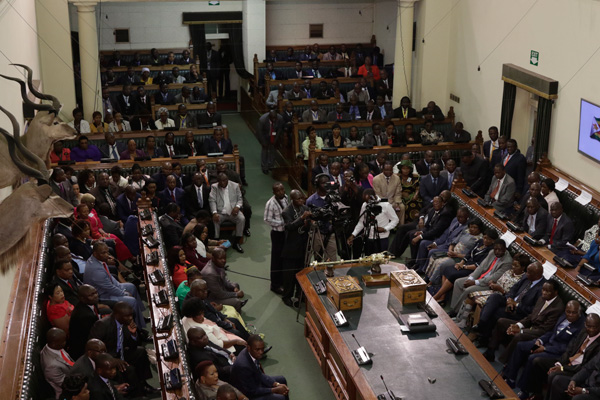 THE Zimbabwe Civil Liberties and Drug Network (ZCLDN) has called on legislators in the Ninth Parliament to formulate laws that will help decriminalise and destigmatise drug addicts and amend the Dangerous Drugs Act to ensure that addicts are referred to health institutions instead of courts of law.
BY VENERANDA LANGA
ZCLDN founder and director Wilson Box recently told NewsDay that drug addiction was now rampant in the country, with several mental hospitals saying 55% of mental cases were triggered by use of illicit drugs like Bron Cleer, Amethamine, mangemba (Diazepam), marijuana and other cough mixtures with extremely high alcohol content.
"We propose that a drug addict must be referred to a medical institution, but if they are repeat offenders, they must be taken for rehabilitation, because if they are just thrown in jail for having a stub of marijuana, you find that it will be difficult to contain diseases like HIV, tuberculosis and hepatitis B in prisons that are already overcrowded," Box said.
"Currently, the Dangerous Drug Act and the Criminal Code have provisions that criminalise drug addicts, but we are saying they must be referred to health institutions so that they enjoy their rights to health."
Box said when they get to hospitals, drug addicts are discriminated upon, and in certain instances, the police are called to arrest them instead of them getting help.
"At the moment, there is no specific data to say how many people are drug addicts in Zimbabwe, but anecdotal evidence shows that there is a lot of illicit drug use. Our study showed that there are a lot of Bron Cleer bottles, used injectors at night clubs. If you go to places like Beitbridge and Mufakose, there is a lot of use of drugs used like Amethamine, mangemba (Diazepam), which are pills meant for mental patients and are as cheap as 10 cents."
He said most of the drugs used by drug addicts were cheap, hence easily available on the informal market.
"The effects are very strong because statistics show that 55% of mental illnesses are due to drug use. It is easier for an intoxicated person to be infected by HIV. Addiction causes high rates of divorces as the man is often intoxicated and considered useless, and we also found that sex workers also use illicit drugs so that they strip and go out naked," he said.
Box called on government to strengthen its drug procurement policies and curb leakages at border posts to minimise smuggling of illicit medicines.
About 60% of Zimbabwean youths are believed to be hooked on illicit drugs, with the majority of them being college students.