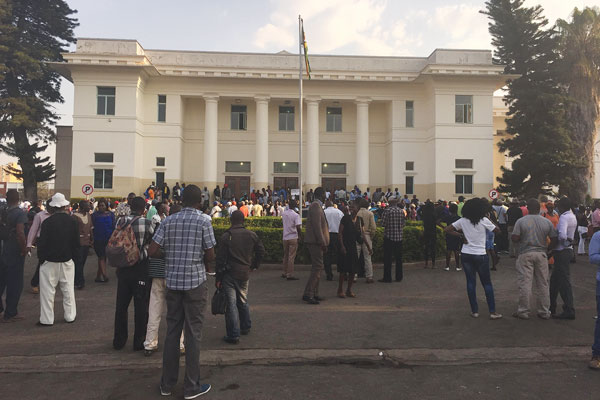 MDC Alliance Bulawayo youths are up in arms against their Mthwakazi Republic Party (MRP) counterparts whom they accused of interfering in the selection of the city's mayor.
BY SILAS NKALA
On Tuesday, the two groups clashed at the Large City Hall, leading to the postponement of the mayoral election to tomorrow as MRP activists accused the Nelson Chamisa-led MDC Alliance of trying to impose a "non-resident" as city mayor.
This came after MRP supporters last week blasted MDC Alliance's ward 24 councillor, Arnold Batirai Dube, for taking his oath of office in Shona while also drunk.
PDP youth deputy president Wellington Nare said they would resist attempts by the MRP to harass their councillors.
"We, the youth assembly of PDP which is part of MDC Alliance, would like to warn the unruly elements of MRP who continue to abuse and violate the rights of our youth assembly president and thousands of the people of Bulawayo who rejected MRP in Nketa and Bulawayo," Nare said.
"We are a peace-loving youth assembly and we believe in engagement, but the level which these misguided elements continue to spew their tribal propaganda to the person of our leader is reaching another level."
"Bulawayo is a metropolitan province which houses almost every one, including people of different regions and nationalities. Any politics that seeks to reduce Bulawayo to a village in Buhera or Nkayi is unrevolutionary," he said.
He called upon residents to unite, foster development and engage councillors to ensure Bulawayo lives to its vision.
But MRP spokesperson Mbonisi Gumbo hit back, saying: "Most of the Bulawayo residents are generally in agreement with MRP that if we don't stand up and defend our nation, there won't be Mthwakazi to talk about in a few years to come. Residents blame the harmonised elections system as a major contributor to this confusion. They now want council and parliamentary elections to be separated from the presidential elections."